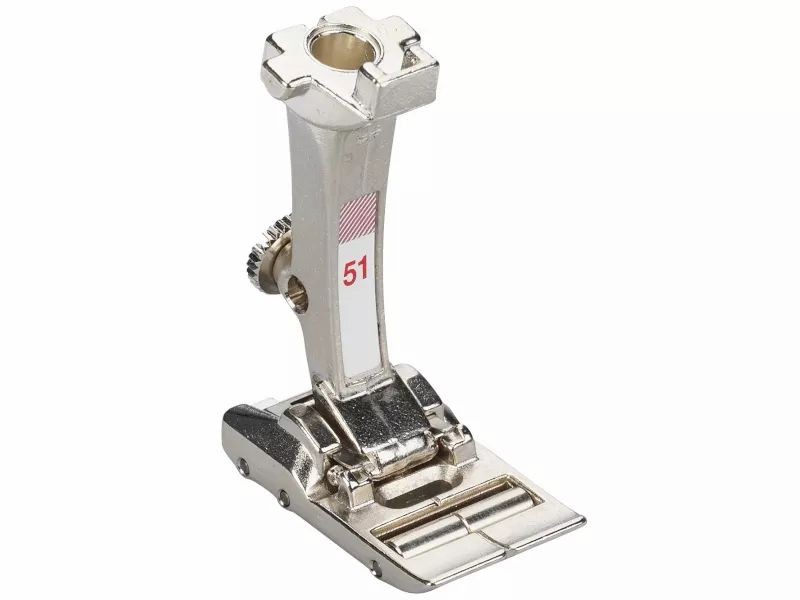 copy of To bookmarks
The lowest price of the last 30 days: 199,00 zł
Foot for overlapping every 1, 6, 12 needle insertions.
For series of machines:

Husqvarna 5,6,7
ref. 920032096
For the Husqvarna 5,6,7 series
Overlapping foot for 1, 6, 12 needle insertions.
1. Set up the machine for straight stitch only.
2.Reduce presser foot pressure if necessary.
3.The adjustment lever determines how often the presser foot will be folded. Set to 1 for an overlap for each stitch, 6 for an overlap every 6th stitch and 12 for an overlap every 12th stitches. Set to 0 to avoid overlapping.
The adjusting screw determines the fill degree of the flounce. Turn the screw clockwise for more and counterclockwise to reduce the amount of shirring in the fabric. Try on scraps of fabric you are sewing.
Set the stitch length to 2.5-3. Experiment with other length settings as the stitch length will also affect the fullness of the ruffle. The shorter the stitch length, the shorter the distance between the tabs.
We invite you to purchase needles for sewing various fabrics, additional spools and machine feet. You can find everything in the category "Accessories"
Description of the above product is protected by copyright. Their use requires the permission of the copyright owner. Downloading the content of the above description without the consent of Wiking Polska Sp. z o.o. based in Krakow constitutes an act of unfair competition in the light of the ACT of April 16, 1993 "on combating unfair competition".
8 other products in the same category:
Product Review
Reviews (0)

All reviews (0)
Excellent (0)
Good (0)
Medium (0)
Poor (0)
Terrible (0)

Latest
Oldest
High rating
Low rating
Helpful