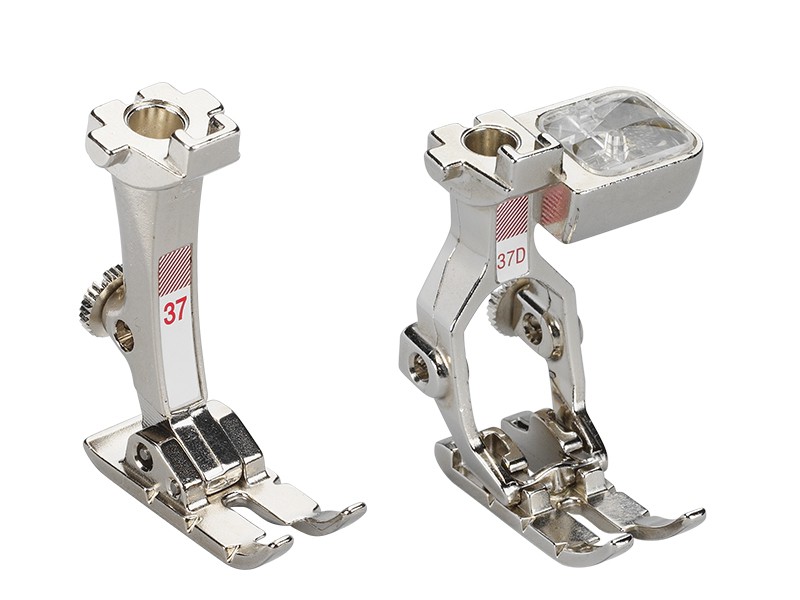 Patchwork foot - 37/37D
The lowest price of the last 30 days: 159,00 zł
Patchwork foot.
For machine series: Bernina
Number: 37 - 001 127 72 00 - for machine series: A
Number: 37 - 036 631 70 00 - for machine series: A, B1, Ec1+2n, Snap-on
Number: 37 - 008 474 74 00 - for machine series: B, C, D, Ea2-4, Eb2-4, Ec, F
Number: 37D - 033 152 72 00 - for machine series: D, Ea3+4, Eb4, F
Patchwork foot
Because it is designed for straight stitching, the Patchwork Foot #37/37D is ideal for sewing with a 1/4" or 1/8" seam allowance (approximately 3 or 6 mm). In addition, the patchwork foot has three evenly spaced markings (1/4 inch apart) on the side for easy insertion of pieces into the patchwork piece. A narrow groove under the flat skid serves as a thread channel for perfect splicing. TIP: A large sewing table makes patchwork easier and more precise.
We invite you to buy needles for sewing various materials, additional bobbins and feet for the machine. You will find everything in the "Accessories" category
Description of the above product is protected by copyright. Their use requires the permission of the copyright owner. Downloading the content of the above description without the consent of Wiking Polska Sp. z o.o. based in Krakow constitutes an act of unfair competition in the light of the ACT of April 16, 1993 "on combating unfair competition".
8 other products in the same category:
Product Review
Reviews (0)

All reviews (0)
Excellent (0)
Good (0)
Medium (0)
Poor (0)
Terrible (0)

Latest
Oldest
High rating
Low rating
Helpful