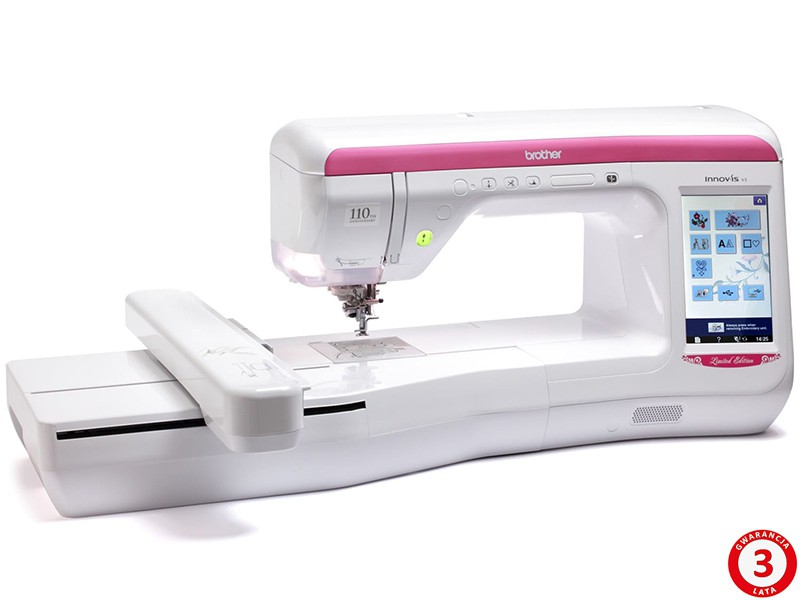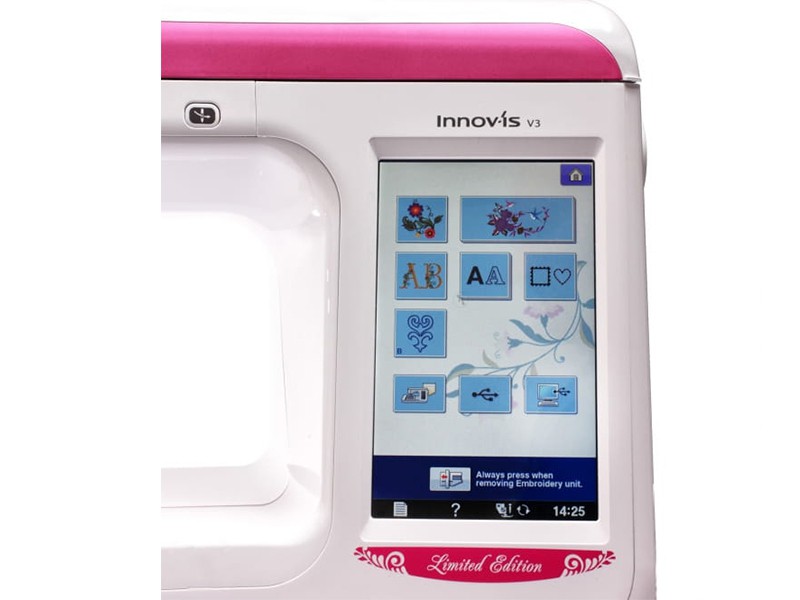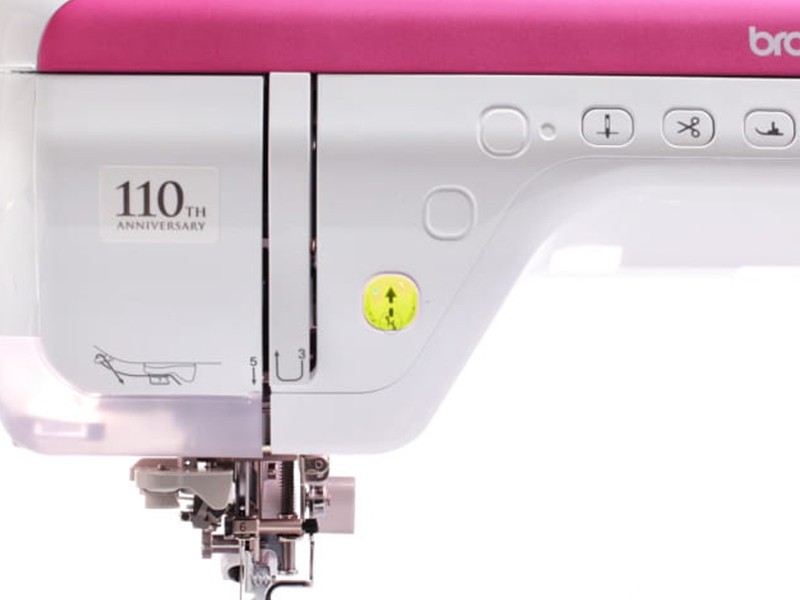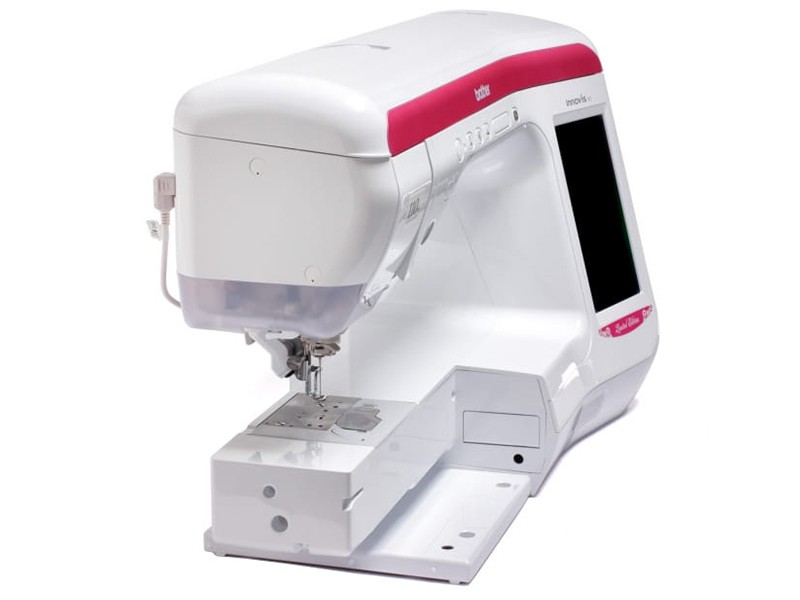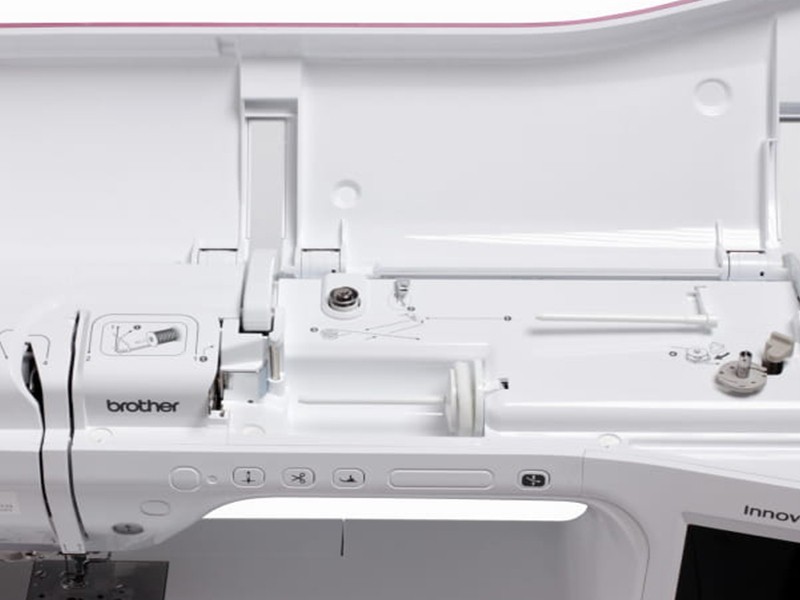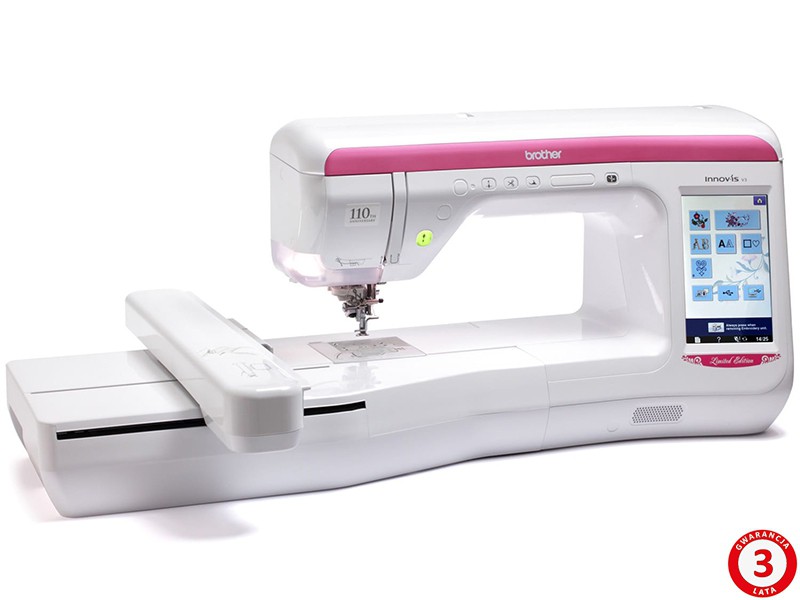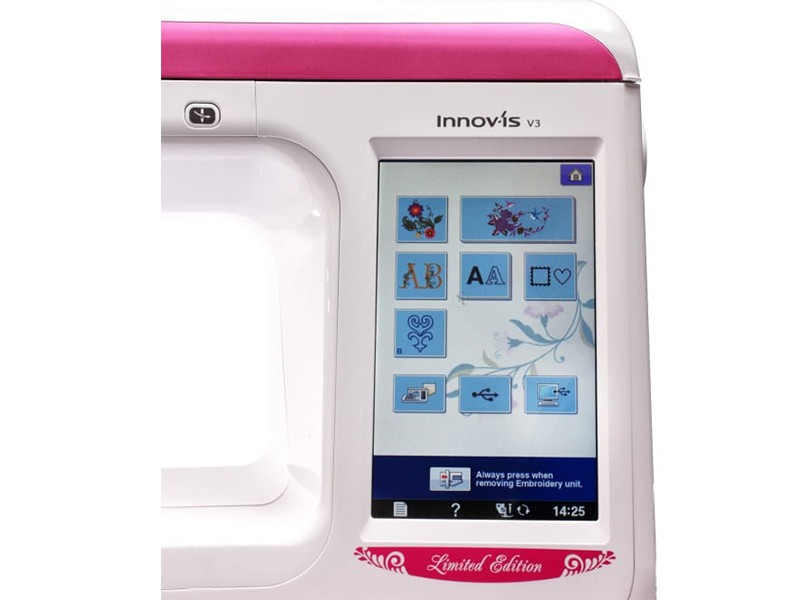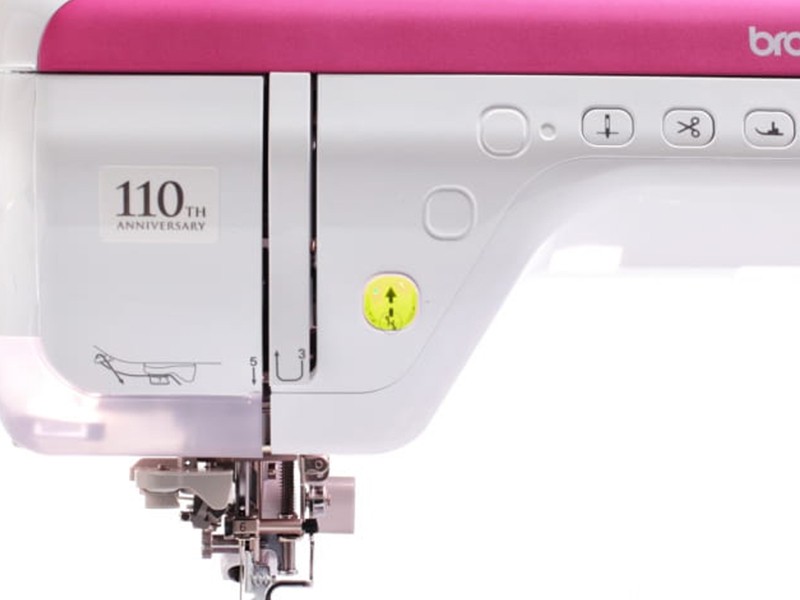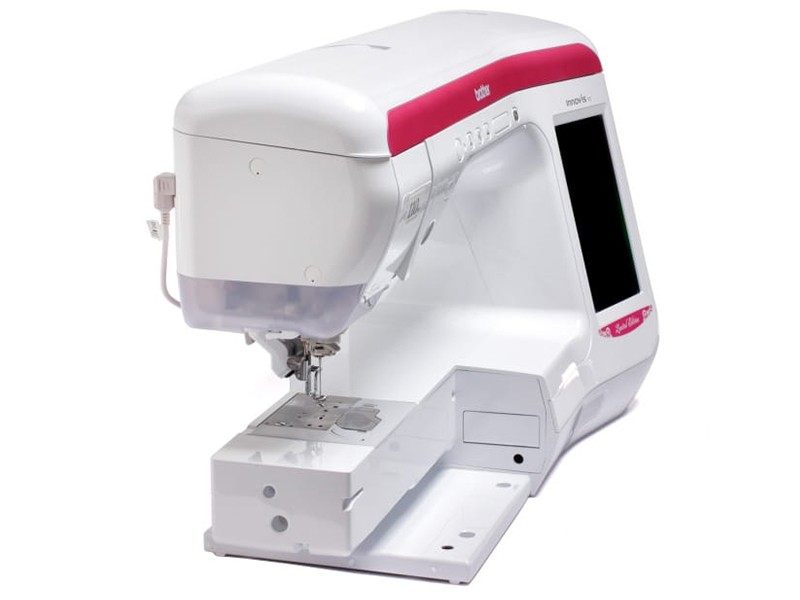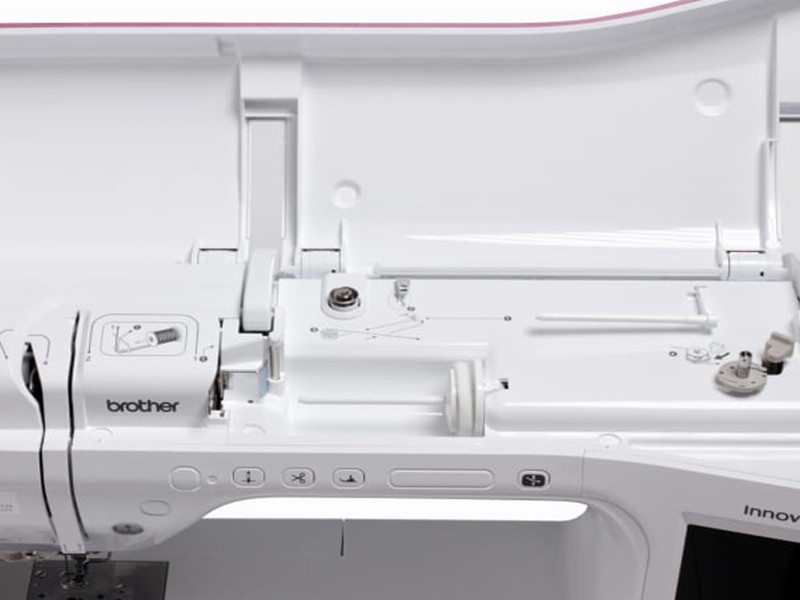 Embroidery machine Brother Inno-s V3 LE
The lowest price of the last 30 days: 13 599,00 zł
NEW! Brother V3LE embroidery machine - a device fulfilling your dreams and your expectations.
Innov-is V3 LE is a high-class embroidery machine with a very large embroidery area of 300 x 200 mm. A very large 7 inch touch screen allows you to conveniently control the machine and precisely use the built-in program for editing embroidery patterns (rotations, mirror images, enlargements, arranging subtitles in many ways and many more). The maximum embroidery speed is 1050 stitches per minute (this is the typical speed of industrial embroidery machines), therefore the performance of this machine is extremely high. It was equipped with 224 embroidery patterns and 17 fonts. New patterns can be uploaded via 2 USB ports . The machine is equipped with numerous functions, including automatic threader, thread cutting function, thread break sensor, etc. NOTE! PED PLUS 2 basic embroidery program for FREE! Its biggest advantage is that you can design embroidery by hand. It has several tools (as in PED 10), with which the user can design, for example, a logo.
EMBROIDERY FUNCTIONS
Largest hoop 300 x 200 mm
The large embroidery area is 300 x 200 mm
Large color touch screen
Brother V3 Limited Edition has a 7 inch screen touch screen wide angle of view.
Jump stitch trimming
The Brother V3 Limited Edition embroidery machine cuts the threads connecting e.g. letters or color blocks. You don't have to do it manually!
Laser sight for pattern positioning
The set includes an embroidery foot with a laser sight. It allows for extremely precise positioning of the embroidery on the hoop.
224 embroidery in the set
In the set we have up to 224 thematically different embroideries. Unlimited possibilities. Free your imagination!
17 Embroidery Fonts and Monograms
Comes with 17 multi-dimensional editable embroidery fonts. Create and embroider lettering and monograms.
Upper and bobbin break sensor
The Brother V3 Limited Edition embroidery machine has a break sensor of the bobbin and upper thread. Alerts you when the bobbin thread count is low or the thread breaks.
Automatic thread cutting
The sewing machine has automatic thread cutting . Just press a button and the threads will be cut automatically. Great working comfort!
One-touch automatic needle threader
The sewing machine has an automatic needle threader that is easy to use. Just press one button and the needle is already threaded.
New generation needle plate
The machine is equipped with a new generation needle plate that eliminates thread tangling.
Robust, durable construction
Machine components and frame made they are made of steel. High, quality!
Internet update
The machine is always up-to-date, is constantly updated by a PC connected by a computer - a computer or a USB key.
High speed work
Industrial embroidery speed, up to 1050 stitches per minute .
2 USB ports
The machine has 2 USB ports , which allows you to connect a mouse or a key USB with update, projects.
Screen lock, screensaver
The Brother V3 Limited Edition embroidery machine has a screen lock option and a screen saver. Nobody will accidentally change your saved settings. Save energy.
Time to embroider each color
On screen we can see the time to embroider each color on an ongoing basis.
Professional LED lighting
The Brother V3 Limited Edition embroidery machine is equipped with the highest quality LED lighting. Energy saving, lifetime guarantee. One-color light similar to natural. It does not cast a shadow and does not tire your eyes!
Separate motor for winding the bobbin
The Brother V3 Limited Edition embroidery machine has a second independent motor for winding the bobbin.
Mirror image of the pattern
Amazing possibilities to create new patterns using the mirroring function. We can use reflection in two planes, i.e. horizontal and vertical. This creates unusual compositions.
Editing each color of the embroidery
We can edit any embroidery color.
Exact rotation of the pattern
Each embroidery can be rotated in increments of 1 degree.
Outline function and check the size of the pattern before embroidering
Helps you to accurately position the pattern on the hoop. The machine will outline the field where it will embroider.
Ability to scale embroidery
On the screen we can change the size of the embroidery. The change can be in the range of -20% to 20% of the original size.
Read multiple pattern formats
The embroidery machine will show embroidery files in many formats third-party on the screen.
Single needle stick function
We can enter embroidery depth into each single needle stick.
Accurate laser embroidery positioning
The Brother V3 Limited Edition embroidery machine has extremely precise positioning of the embroidery on the hoop.
Electronic thread tension
Embroidery machine has an electronic thread tension, controlled by a sensor sensor.
Modern rotary looper - accuracy and comfort
of a very modern rotary looper, the accuracy and precision of the stitches performed is exceptional. The machine works quietly and softly. Incredibly high work culture!
Two hoops included
The set includes two hoops with dimensions: 300x200 mm, 200x200 mm.
Cooperation with the plotter
The embroidery machine works with the plotter ScanNCut model CM900 (and older model CM840).
Can be embroidered with string or tape
The embroidery machine works with accessories that allow you to embroider with string or tape.
Electronic or manual foot lifting
The embroidery machine gives the possibility of lifting the presser foot in manual or electronic mode (switch on with the key)
Soft cover in basic equipment
The basic equipment includes a soft cover that perfectly protects the machine against dust or during transport.
Three years warranty
All components and parts in the machine are covered by a 3-year warranty. We provide a door-to-door service (from door to door).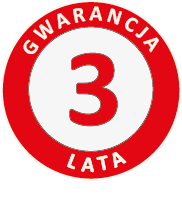 Standard accessories:
- FLED1 laser pointer embroidery foot ,
- hoop 300 x 200 mm,
- hoop 200 x 200 mm,
- embroidery fleece, 3 sheets (28 cm x 100 cm)
- white bobbin thread 1000 meters
- a set of needles,
- spools, 10 pieces (one in the machine) ,
- spool clips, 10 pieces,
- scissors,
- cleaning brush zenia,
- small and large screwdriver
- disc-shaped screwdriver,
- spool cap small,
- spool cap medium (additional in the machine),
- large spool cap,
- spool net (x 2 pieces),
- touch pen,
- USB cable,
- power cord,
- seam cutter,
- additional pin for a spool,
- cover for accessories,
- cover for embroidery machine,
- spacer for the needle plate,
- insert for a larger diameter spool.
We invite you to purchase needles for sewing various materials, additional spools and machine feet. You can find everything in the category "Accessories"
Description of the above product is protected by copyright. Their use requires the permission of the copyright owner. Downloading the content of the above description without the consent of Wiking Polska Sp. z o.o. based in Krakow constitutes an act of unfair competition in the light of the ACT of April 16, 1993 "on combating unfair competition".
Data sheet
Automatic stop when the bottom bobbin is full

tak

Automatic tensioning of the top thread

tak

Automatic stitch binding

Color Touch Screen

tak-7 cali

Possibility of sewing with a double needle

Vertical mirroring

tak

Horizontal mirroring

tak

LED lighting

Start/stop button

tak

Automatic needle positioning

Stopping the needle in the Up/Down position

tak

The size of the tambourine

300 X 200 mm

Stitch restart

tak

Patchwork Program

tak

Number of embroidered fonts

17

Number of embroideries

224

USB ports

2 porty
8 other products in the same category:
Product Review
Reviews (0)

All reviews (0)
Excellent (0)
Good (0)
Medium (0)
Poor (0)
Terrible (0)

Latest
Oldest
High rating
Low rating
Helpful