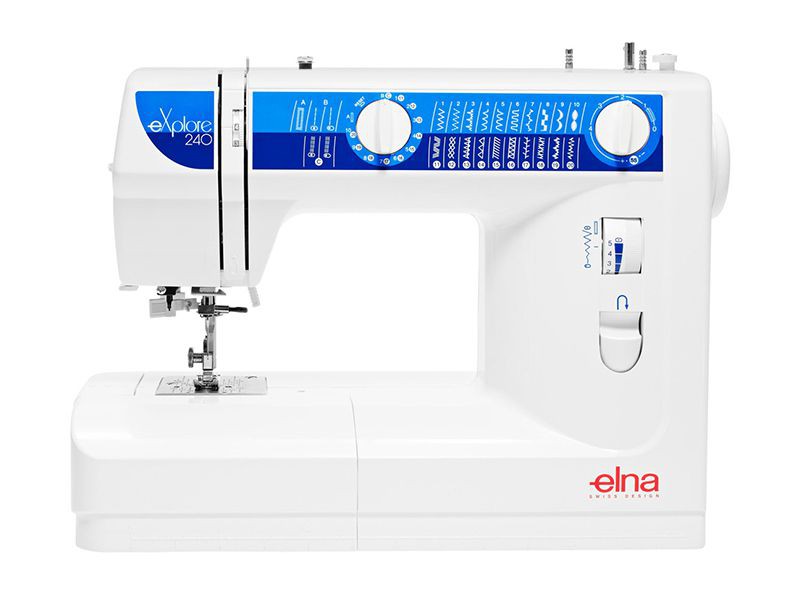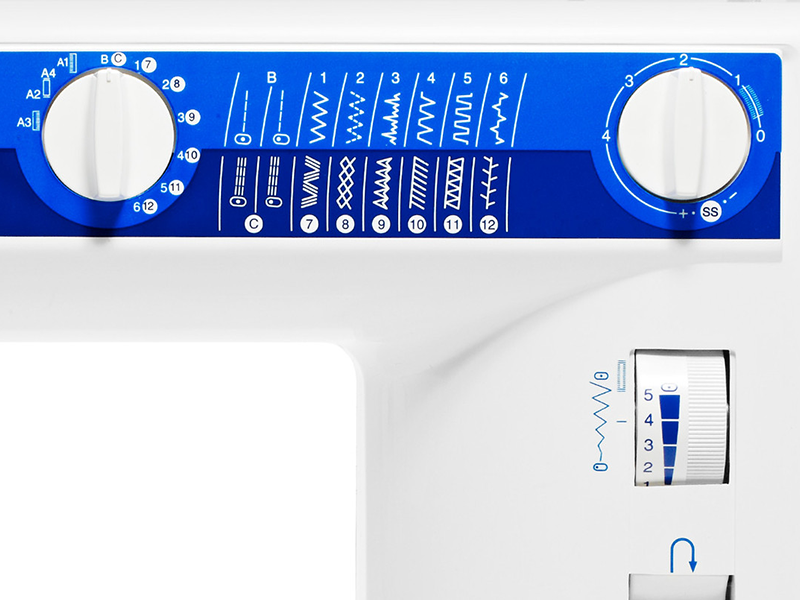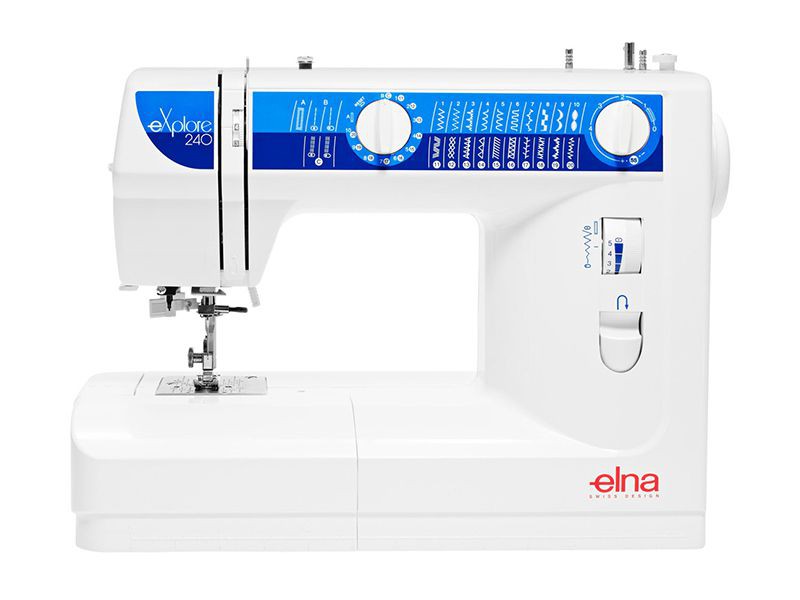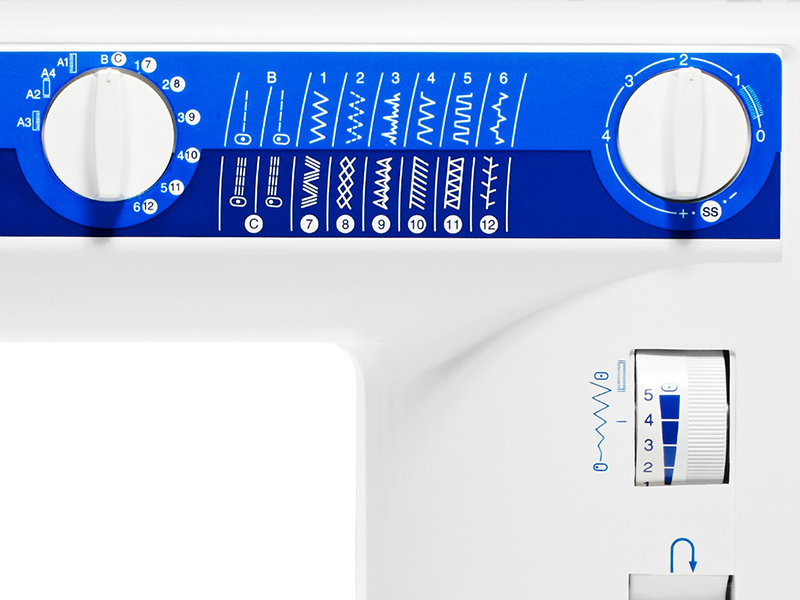 Sewing machine Elna 220 Explore
The lowest price of the last 30 days: 1 149,00 zł
Elna 220 Explore sewing machine
The Elna 220 sewing machine presented below is perfect for working at home . Has 15 types of stitches such as blind stitching, triple punch zigzag and semi-automatic button-size buttonholes. In addition, we have a wide range of stitches for elastic and stretchable fabrics (e.g. for sewing in elastic), for hidden hemming or very useful overlock stitches. Lots of decorative stitches will decorate your products. Moreover, the Elna 220 Explore sewing machine is equipped with a metal hook and a strong steel structure.
Choice of 15 stitches
The stitch kit includes extremely useful utility stitches and decorative. We have overlock stitches available for joining or finishing materials. We will also find blind stitches, thanks to which we can sew or roll up the fabric in a way that is invisible from the right side (threads are not visible). The gamma of special stitches for stretch fabrics is also very useful, i.e. stitches that stretch with the fabric and do not cause it to wrinkle. We just have to remember to use elastic threads for stretchy stitches. Embroidery stitches are also unique. They look very nice on the fabric, but you only really see it after making it.
Solid, durable construction
The components and the frame of the machine are made of steel. Fine, workmanship!
Semi-automatic buttonhole
Buttonhole it is made to the size of a button without the need to rotate the material. This makes both sides of the buttonhole the same density.
Automatic needle threader
The sewing machine has an automatic needle threader that is easy to use, soft and comfortable. Very needed, after all, you don't have to reach for your glasses!
Adjustable presser foot pressure
Thanks to the smooth adjustment of the presser foot pressure, we can easily sew thin and thick fabrics. We increase the pressure for fabrics such as silk, jersey and then the material is more precisely moved through the teeth. Presser foot pressure is a feature of more expensive machine models!
Double needle sewing
We can use a twin needle with various spacings of 2.5 mm, 4.0 mm, and 6.0 mm for sewing. This will create a two needle straight stitch.
Free arm
Thanks to the narrow arm, we can easily repair narrow items of clothing: a sleeve, trouser leg or children's clothing.
Positioning the needle
Positioning the needle is a handy feature that allows you to sew accurately in difficult places. Especially useful when sewing zippers or strapping with tape.
Snap fastening of the feet
Allows easy replacement of feet. Press the button, the foot falls onto the fabric. Then place a new one and lower the presser foot lever. The presser foot is automatically "clicked" and ready to use.
Convenient thread cutter
There is a convenient thread cutter in the housing. We don't need to use scissors.
Reverse sewing
Machine has a reverse sewing function. At the beginning and end of a stitch, we press reverse for a few seconds and tie the stitch to prevent it from being unraveled.
Simple stitch selection
Quick and easy selection of 15 stitches with a single selector dial. We offer utility stitches and beautiful decorative stitches.
Standard accessories according to the instructions.
We invite you to purchase needles for sewing various materials, additional spools and machine feet. You can find everything in the category "Accessories"
Description of the above product is protected by copyright. Their use requires the permission of the copyright owner. Downloading the content of the above description without the consent of Wiking Polska Sp. z o.o. based in Krakow constitutes an act of unfair competition in the light of the ACT of April 16, 1993 "on combating unfair competition".
Data sheet
Number of stitches

15

Guarantee

5 years

Automatic buttonhole sewing

NO

Automatic needle threader

Yes

Automatic thread trimmer

NO

Stitch tying function

manual

Extra table

NO

Knee lever

NO

Foot pressure function

manual

Number of needle positions

2

Case

soft

Double needle sewing possible

Yes

LED lighting

Yes

Accessory container

Yes

Button sewing program

Yes

Stitch width adjustment

up to 5.0 mm

Hook type

swinging

Decorative stitches

NO

Blind hemming stitches

Yes

Overlock stitches

Yes

Stitches for stretch fabrics

Yes

Sewing without a speed controller

NO

Integrated top material transport

NO

sewing speed

800 injections/min

Automatic needle positioning

NO

Embroidery field

not applicable

Alphabet

NO
Automatic buttonhole machine: Precision and Efficiency for your Sewing!

Today we have an amazing tool for you that will revolutionise your sewing experience - the Hole Machine for REDSTAR sewing machines! Do you sometimes wish you could create perfectly aligned holes, but technical difficulties and limited time get in the way? Now, thanks to the Automatic buttonhole machine, you can achieve it without any problem! The Automatic Hole Machine is an innovative solution that allows you to create holes in different sizes and shapes quickly, precisely and efficiently. Whether you are working on garments, accessories or other sewing projects, this machine will provide you with perfect results. Thanks to the advanced features of the Hole Machine, you can easily adjust the width, length and density of your holes to your individual needs. The process is extremely simple - just select the desired programme and let the machine do the rest of the work. Precision and speed are key features of the Automatic Punch Machine. You no longer have to worry about manually measuring and cutting holes, which used to consume a lot of time and energy. The machine will do this for you in an accurate and repeatable manner, saving you time and improving the quality of your projects.

Professional Coverstitch Feet: The Secret to Perfect Finishes!

We would like to introduce a professional covered stitch foot that will allow you to achieve perfect finishes in your sewing projects. Have you ever dreamed of perfectly covered seams that are even, invisible from the outside and look like they were made on a factory machine? Now its possible with the covered stitch foot! The covered stitch foot is an extraordinary tool that enables precise and concealed sewing. It works by stitching two layers of fabric together and covering the seam at the same time, creating perfect finishes on both the top and bottom. With the covered stitch foot, your projects will look professional and aesthetically pleasing. Regardless of the fabric or design, the foot ensures even stitching and perfect seam coverage. You can create beautiful seams on clothing, bedding, tablecloths or other textiles, giving them a unique look. The covered stitch foot is extremely easy to use and fits most sewing machines. Simply fit it according to the manufacturers instructions and then select the appropriate length and width of seam. Ready? Now you can start creating amazing finishes! Dont waste any more time trying different techniques for finishing seams by hand. With the covered stitch foot you will achieve perfect results in a fast and precise way. Your projects will take on a professional character and you will discover new

Overlock stitch foot - precision and perfection in one

Introducing an indispensable accessory for every sewing enthusiast - the "Overlock stitch foot". Have you ever wondered how to achieve incredible precision and perfection in your sewing projects? This magic foot is the key to achieving the professional results youve always dreamed of. It will not only make your stitches look aesthetically pleasing, but also durable and exceptionally well finished. In our video, we will show you step by step how to use this overlock stitch foot correctly. Youll learn how to fit it, adjust the settings of your machine for optimum results, and how to guide your fabric step-by-step so that the end result is simply stunning. Whether youre a sewing novice or a seasoned sewing veteran, our video is for you. Gain confidence in operating your overlocker and make your designs stand out with a unique finish. Dont wait any longer - click on the video and join our creative adventure into the world of sewing. Discover the magic of the overlock stitch foot and give vent to your creative passion today!
8 other products in the same category:
Product Review
Reviews (0)

All reviews (0)
Excellent (0)
Good (0)
Medium (0)
Poor (0)
Terrible (0)

Latest
Oldest
High rating
Low rating
Helpful