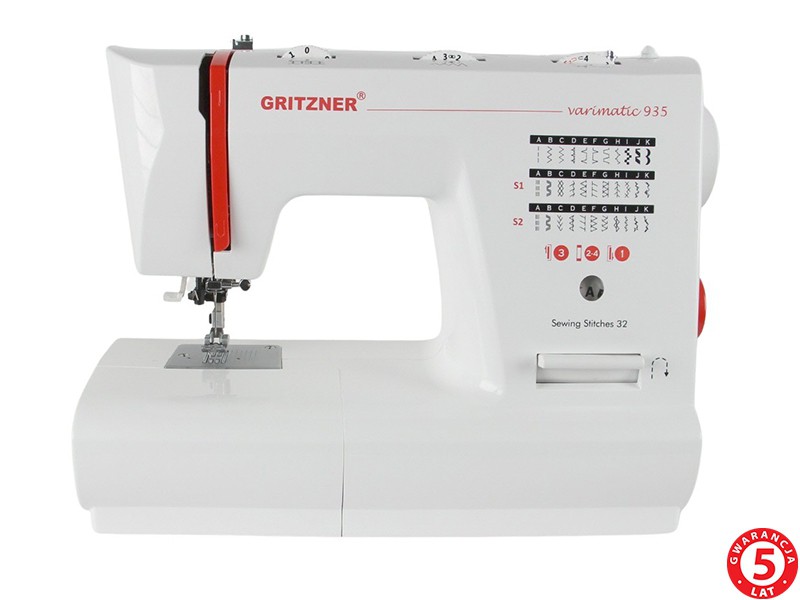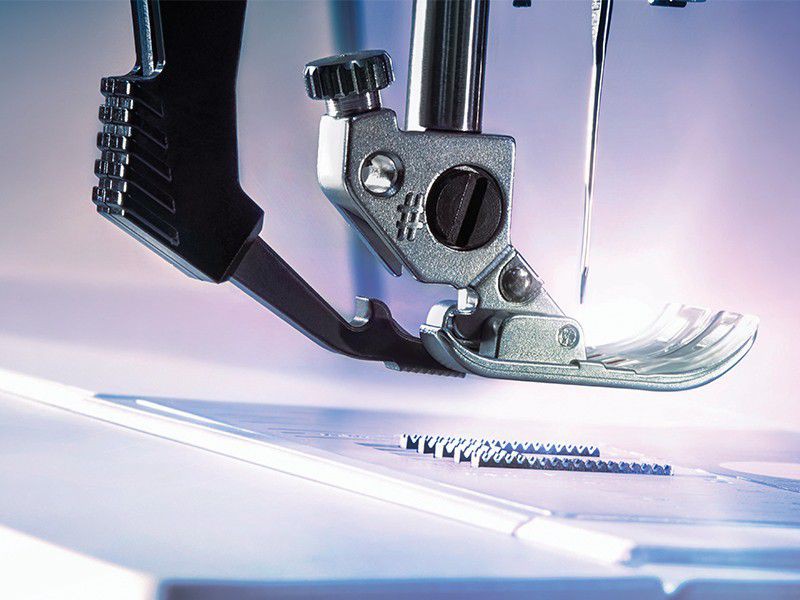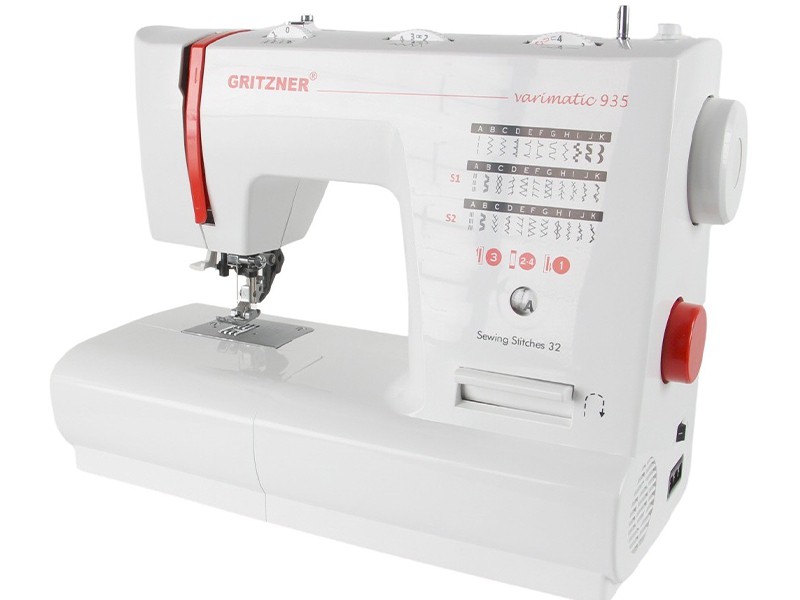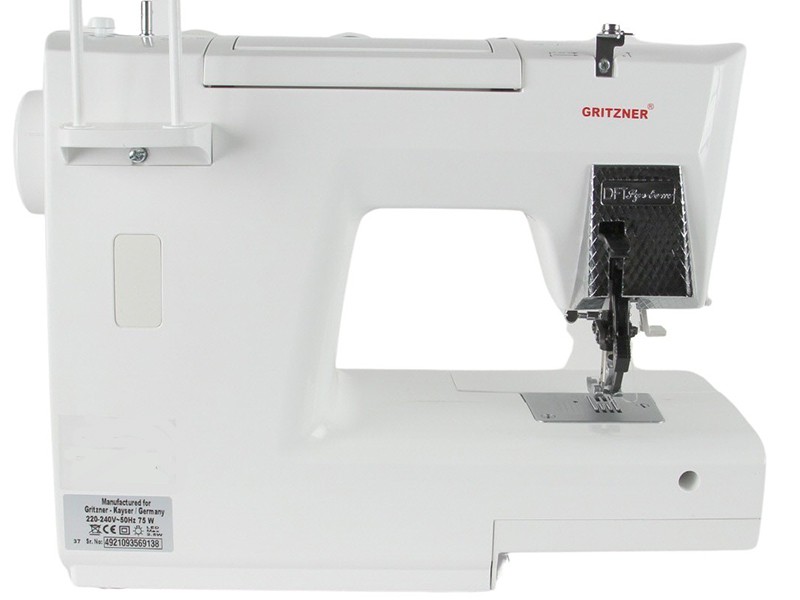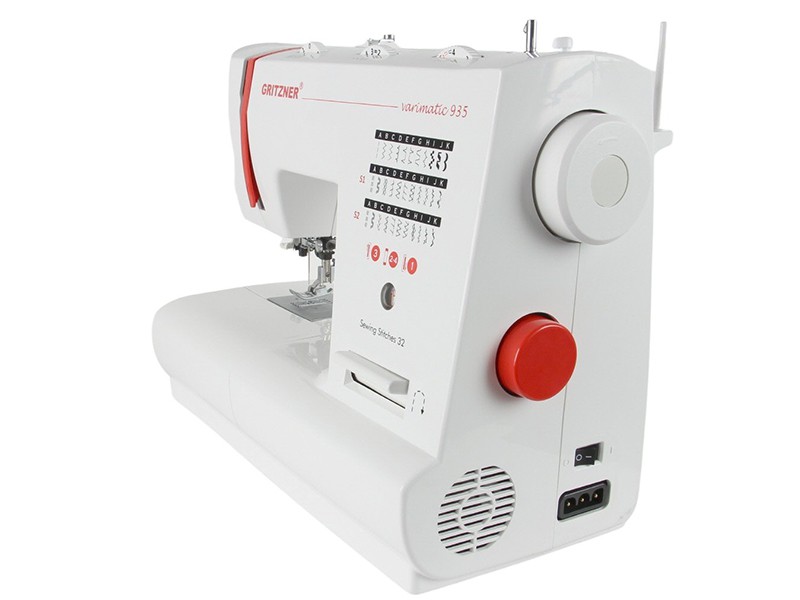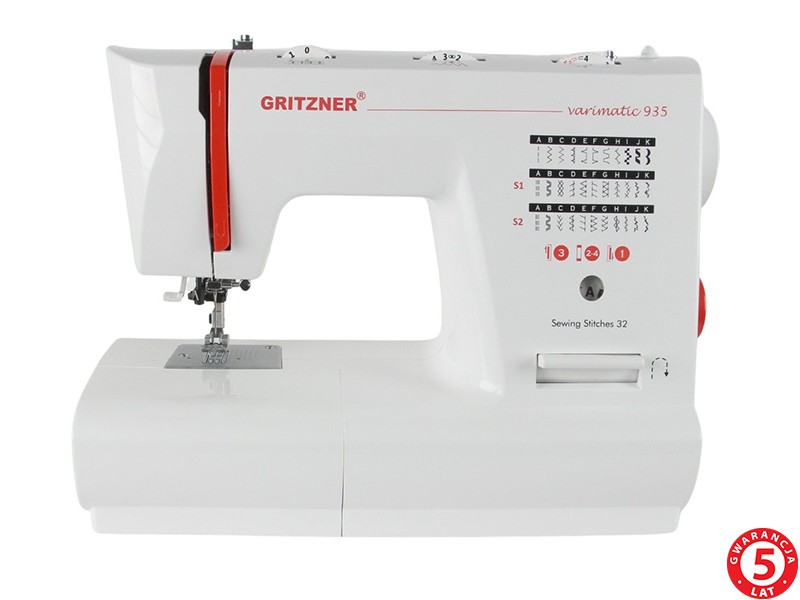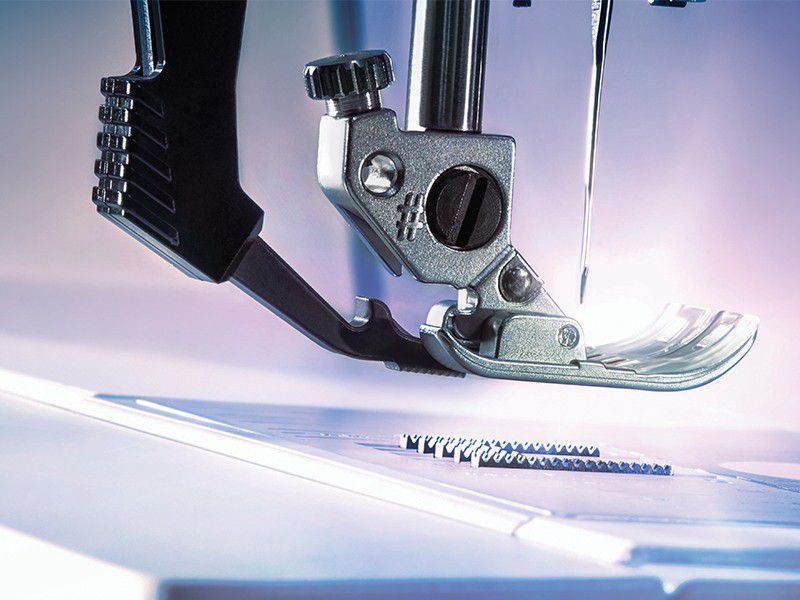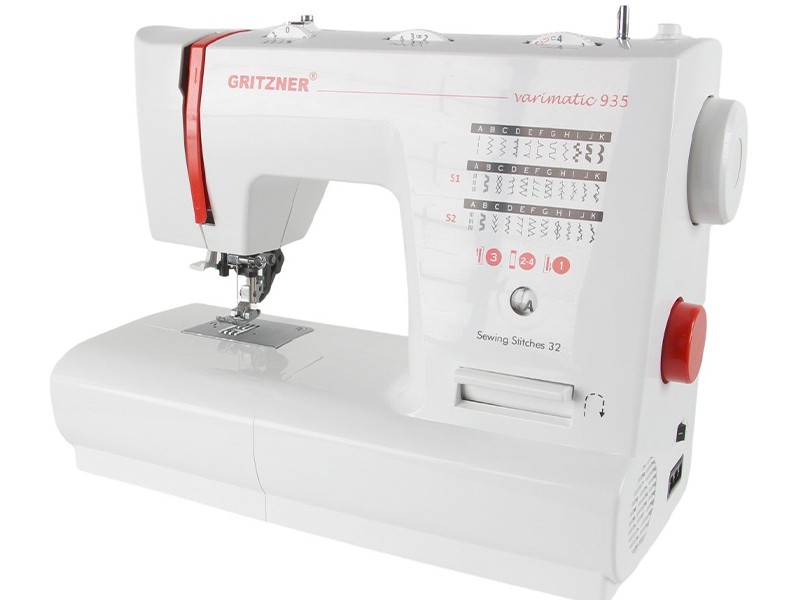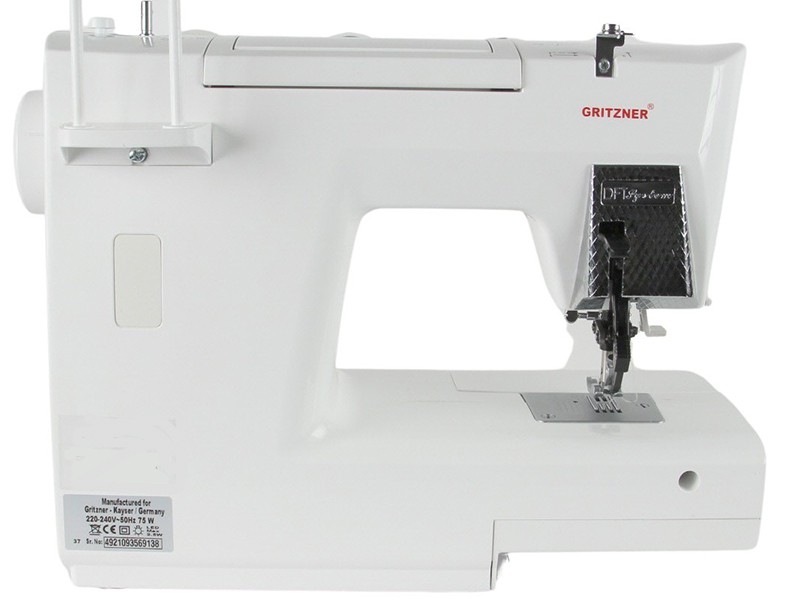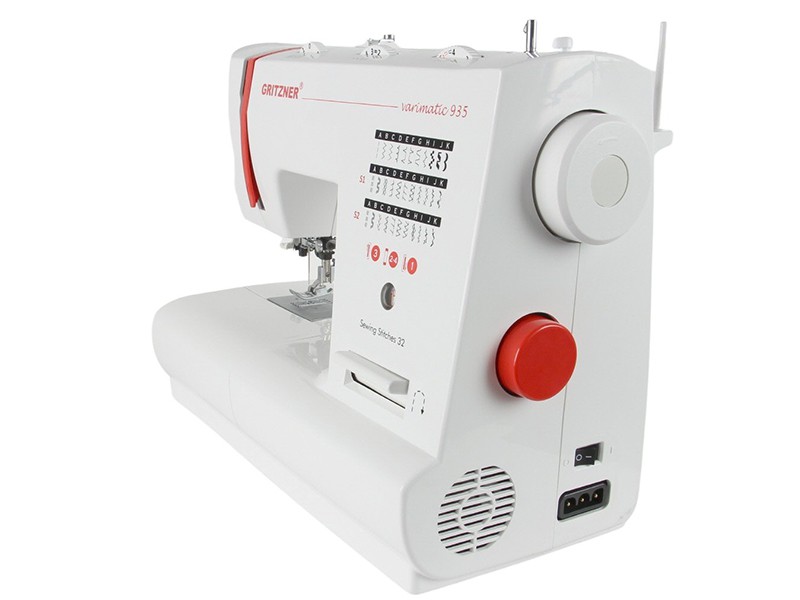 Sewing machine Gritzner Varimatic 935 IDT
The lowest price of the last 30 days: 1 999,00 zł
NOWOŚĆ!

Maszyna do szycia Gritzner Varimatic 935 IDT

Najtańsza na rynku maszyna do szycia z dodatkowym górnym transportem i niemiecką jakością wykonania. Maszyna do szycia Gritzner Varimatic 935 IDT posiada zintegrowany górny transport materiału IDT, dzięki któremu szyjemy równo, bez ściągania i marszczenia – również przy szyciu materiałów trudnych np. jedwabiu, jeansu oraz materiałów elastycznych. Szycie jest przyjemnością! Jest wyposażona 32 pogramy ściegowe oraz obszywanie dziurki pod guzik. Do pomocy otrzymujemy automatyczny nawlekacz igły, co stanowi olbrzymią wygodę i nieocenioną pomoc. Seria maszyn Gritzner to stabilne maszyny do najtrudniejszych zadań. Maszyny Gritzner posiadają długą 5-LATNIĄ GWARANCJĘ!
System Drugi dodatkowy górny transport materiału w systemie IDT!
System podwójnego transportu DFT zapewnia perfekcyjne szycie wszystkich typów materiałów od cienkich i śliskich do grubych i twardych .Dodatkowo górny transport jest zsynchronizowany z dolnym transportem, dlatego przesuw tkanin odbywa się płynie. Nie ma więc irytującego ściągania, marszczenia przy szyciu spodni z lycry czy bluzki z jedwabiu – szycie jest przyjemnością !
Do wyboru 32 programów ściegowych
Maszyna posiada 32 niezwykle przydatnych ściegów użytkowych i ozdobnych. Do dyspozycji mamy ściegi owerlokowe do łączenia czy wykańczania materiałów. W zestawie znajdziemy także ściegi kryte, dzięki którym podszyjemy czy podwiniemy materiał w sposób niewidoczny od strony prawej (nie widać nitek). Bardzo przydatna jest też gamma ściegów specjalnych do materiałów elastycznych, czyli ściegów które się rozciągają wraz z materiałem i nie powodują jego marszczenia. Musimy jedynie pamiętać w tym wypadku o stosowaniu nici elastycznych.
Solidna, wytrzymała konstrukcja
Podzespoły i rama maszyny wykonane są ze stali. Wysoka jakość!
Półautomatyczne obszywanie dziurek
Dziurka wykonywana jest na wymiar guzika bez potrzeby obracania materiału. Dzięki temu gęstość obydwu stron dziurki jest identyczna.
Oświetlenie diodami LED
Maszyna jest wyposażona w diodowe oświetlenie LED. Oszczędność energii, dożywotnia gwarancja. Światło jednobarwne zbliżone do naturalnego. Nie rzuca cienia i nie męczy Twoich oczu!
Twarda walizka w wyposażeniu standardowym
W wyposażeniu podstawowym otrzymujemy twardą walizkę, która doskonale zabezpiecza maszynę przed kurzem lub podczas transportu.
Szycie podwójną igłą
Możemy wykorzystać do szycia podwójną igłę o różnych rozstawach 2,5 - 6,0 mm. Uzyskamy w ten sposób ścieg prosty dwuigłowy.
Wolne ramię
Dzięki wąskiemu (wolnemu) ramieniu łatwo naprawimy wąskie elementy odzieży: rękaw, nogawkę spodni czy elementy odzieży dziecięcej.
Pozycjonowanie igły
Pozycjonowanie igły to przydatna funkcja, która pozwala na dokładne szycie w trudnych miejscach. Szczególnie przydatna przy wszywaniu zamków lub lamowaniu taśmą.
Płynna regulacja parametrów ściegów
Maszyna posiada płynna regulację parametrów ściegów w zakresie: szerokość 0-5 mm, długość 0-4 mm.
Duża przestrzeń pod stopką
Duża przestrzeń pod stopką, umożliwia szycie grubszych materiałów. Nie mamy problemu z szyciem wielu warstw. Jest to bardzo wygodne. Łatwiej jest też szyć skórę czy dżins. W maszynach Pfaff Select mamy dwa stopnie uniesienia stopki maksymalnie do wysokości 10,5 mm.
Zatrzaskowe mocowanie stopek
Pozwala na łatwą wymianę stopek. Naciskamy na przycisk, stopka spada na materiał. Następnie podkładamy nową stopkę i opuszczamy dźwignię. Klik i stopka jest gotowa do szycia.
Wygodny nożyk do obcinania nitki
W obudowie znajduje się wygodny nożyk do obcinania nitek. Nie musimy korzystać z nożyczek.
Możliwość wyłączenia ząbków
Można wyłączyć (opuścić) ząbki, aby szyć innymi technikami. Szczególnie przydatne przy haftowaniu lub pikowaniu z ręcznym prowadzeniem materiału.
Szycie wstecz
Maszyna posiada funkcję szycia do tyłu. Na początku i końcu ściegu naciskamy przycisk "szycie wstecz" przez kilka sekund i wiążemy ścieg, zabezpieczając go przed pruciem.
Proste wybieranie ściegów
Szybki i łatwy wybór ściegów za pomocą miękkich klawiszy. Wybieramy ścieg wciskając jeden lub dwa klawisze.
Pełna siła wkłucia igły
Elektronicznie sterowany regulator obrotów gwarantuje stałą i pełną siłę wkłucia igły, niezależnie od prędkości z jaką szyjemy.
Napełnianie szpulki przez igłę
Bardzo wygodna funkcja napełniania szpulki dolnej bezpośrednio przez igłę.
Pięć lat gwarancji
Wszystkie podzespoły i części w maszynie są objęte 5-letnią gwarancją. Świadczymy usługę serwisową w systemie door-to-door (od drzwi do drzwi).

Wyposażenie standardowe maszyny:
-stopka uniwersalna zig-zag
-stopka do zamków błyskawicznych
-stopka do naszywania aplikacji
-stopka do dziurek/guzików
-szpulki bębenka x 3
-igły x 5
-nakładki na szpulkę x 3
-oliwiarka
-szczoteczka
-przecinak
-śrubokręt
-kabel zasilający
-twarda walizka walizka
-rozrusznik nożny
-instrukcja w j. polskim
* Producent zastrzega sobie prawo do zmiany wyposażenia bez uprzedniej informacji.
Zapraszamy do zakupu igieł do szycia różnych materiałów, dodatkowych szpulek oraz stopek do maszyny. Wszystko znajdziecie Państwo w kategorii "Akcesoria"
Description of the above product is protected by copyright. Their use requires the permission of the copyright owner. Downloading the content of the above description without the consent of Wiking Polska Sp. z o.o. based in Krakow constitutes an act of unfair competition in the light of the ACT of April 16, 1993 "on combating unfair competition".
Data sheet
Warranty

5 lat

Automatic needle threader

tak

Automatic thread trimming

Nie

Automatic stitch binding

manualna

Additional table

Nie

Knee lever

nie

Foot press function

automatyczny

Number of needle positions

płynna regulacja

Soft cover

Twarda walizka

Possibility of sewing with a double needle

tak

Cased knives

tak

LED lighting

tak

Accessory bin

tak

Button sewing program

tak

Stitch width adjustment

do 5,0 mm

Gripper type

wahadłowy

Decorative stitches

tak

Covered lining stitches

tak

Overlock stitches

tak

Stitches for elastic materials

tak

Free arm

tak

Sewing without speed controller

nie

Top-end material handling

tak

Sewing speed

860 wkłuć/min

Automatic needle positioning

NIe

Embroidery field

nie dotyczy

Number of stitches

32

Alphabet

Nie

Automatic hole punching

nie
Specific References
ean13

0603453951938
8 other products in the same category:
Product Review
Reviews (0)

All reviews (0)
Excellent (0)
Good (0)
Medium (0)
Poor (0)
Terrible (0)

Latest
Oldest
High rating
Low rating
Helpful