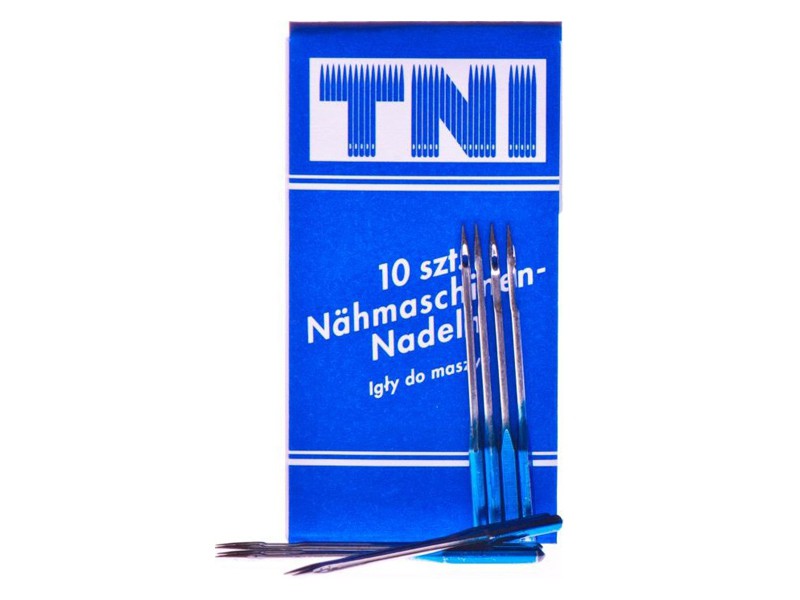 TNI - 90 needles for industrial machines
The lowest price of the last 30 days: 15,00 zł
Round needles TNI for industrial machines in the system 135 X 5. The set includes needles: 10 x 90. Packing 10 pieces.
For industrial machines.
Good to know:
Needle colors
In order to make it easier to recognize needles for household machines taken out of the packaging, the SCHMETZ company uses color markings on the cone of the stock.
- UNIVERSAL (STANDARD) - no markings
- JERSEY BALL POINT (WITH A BALL - for jersey and knitted fabrics) - orange
- STRETCH - yellow
- JEANS/DENIM - blue
- MICROTEX (for microfibre and silk) - purple
- EMBROIDERY (with a larger embroidery eyelet) - red
- OUILTING (for quilting and patchwork) - green
Stocking test
If you sew fabrics that are susceptible to damage (especially knitted fabrics) and you are not sure whether the tip of the needle will not damage the fabric, use a simple test. Prick the stretched (old) stocking several times with the needle, if the stitches do not fly, sew without fear!
How to store needles
Needles should be stored in factory packaging - never in bulk, because it causes damage to the tip, and this leads to irreversible losses in the form of damage to the material.
We invite you to buy needles for sewing various materials, additional bobbins and feet for the machine. You will find everything in the "Accessories" category
Description of the above product is protected by copyright. Their use requires the permission of the copyright owner. Downloading the content of the above description without the consent of Wiking Polska Sp. z o.o. based in Krakow constitutes an act of unfair competition in the light of the ACT of April 16, 1993 "on combating unfair competition".
8 other products in the same category:
Product Review
Reviews (0)

All reviews (0)
Excellent (0)
Good (0)
Medium (0)
Poor (0)
Terrible (0)

Latest
Oldest
High rating
Low rating
Helpful