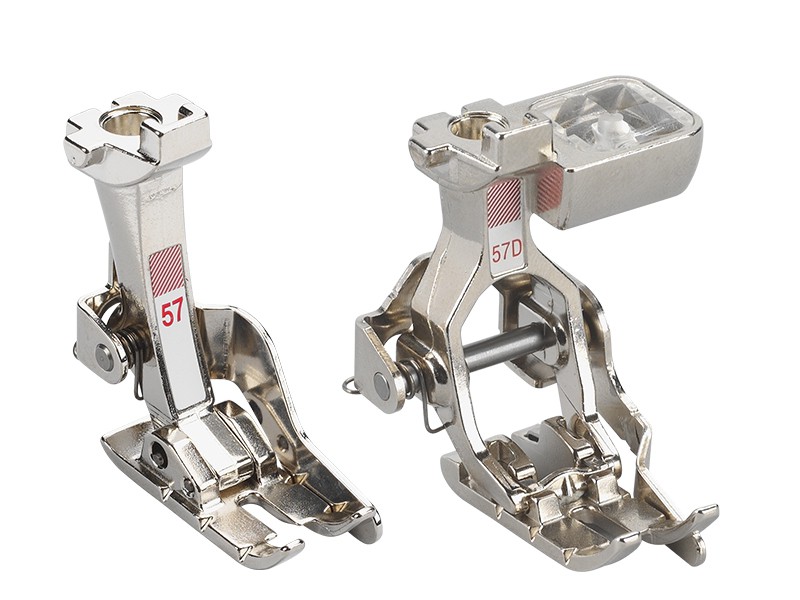 Patchwork foot with ruler - 57/57D
The lowest price of the last 30 days: 199,00 zł
Patchwork foot with ruler.
For machine series: Bernina
Number: 57 - 032 148 71 00 - for machine series: A
Number: 57 - 031 577 72 00 - for machine series: B, C, D, Ea2-4, Eb2-4, Ec, F
Number: 57D - 033 152 72 00 - for machine series: D, Ea3+4, Eb4, F
Patchwork foot with ruler
Patchwork Foot with Guide #57 differs from Patchwork Foot #37 only in that it has a built-in seam guide along the right edge of the foot. Therefore, it is particularly suitable for patchwork projects with a 1/4" (6 mm) or 1/8" (3 mm) seam allowance. Other precision sewing techniques that require a perfectly straight seam also benefit from the #57 patchwork foot with guide. Here, the edge guide is placed directly on the edge of the fabric or seam line so that straight spacing and lines can be obtained when sewing.
We invite you to buy needles for sewing various materials, additional bobbins and feet for the machine. You will find everything in the "Accessories" category
Description of the above product is protected by copyright. Their use requires the permission of the copyright owner. Downloading the content of the above description without the consent of Wiking Polska Sp. z o.o. based in Krakow constitutes an act of unfair competition in the light of the ACT of April 16, 1993 "on combating unfair competition".
8 other products in the same category:
Product Review
Reviews (0)

All reviews (0)
Excellent (0)
Good (0)
Medium (0)
Poor (0)
Terrible (0)

Latest
Oldest
High rating
Low rating
Helpful