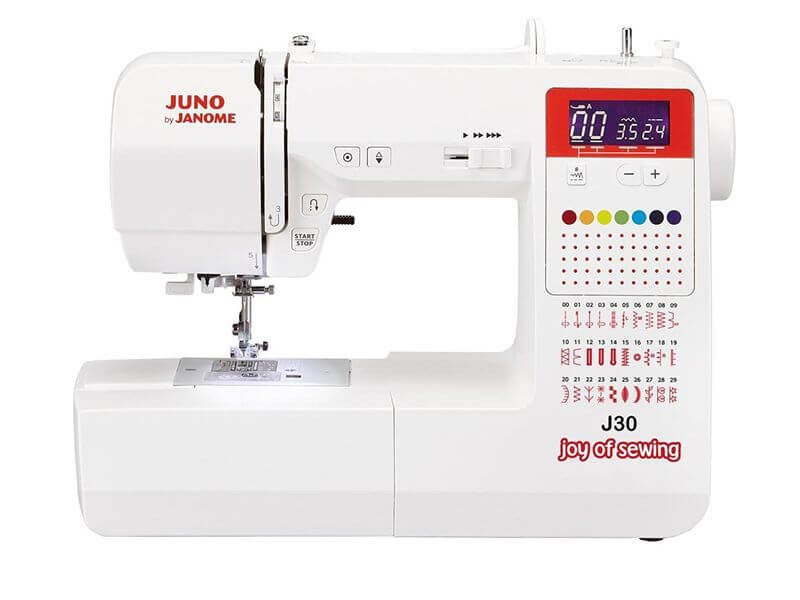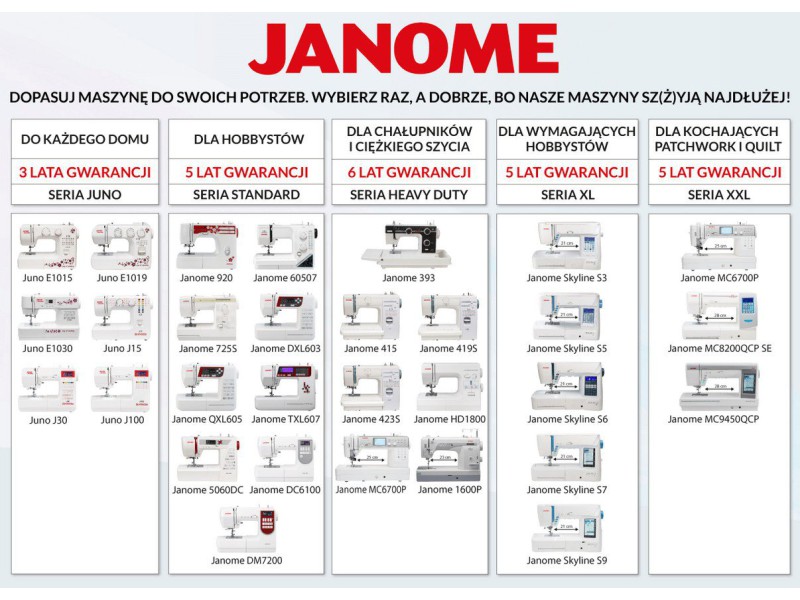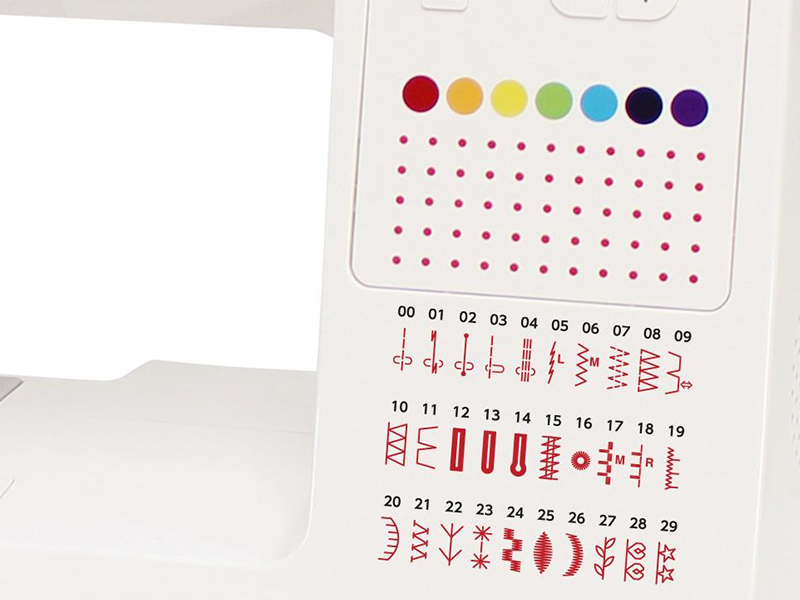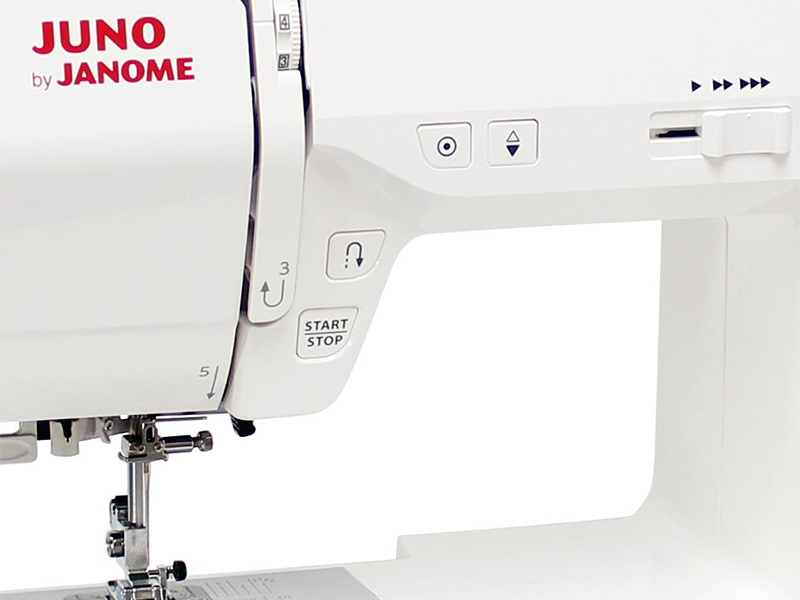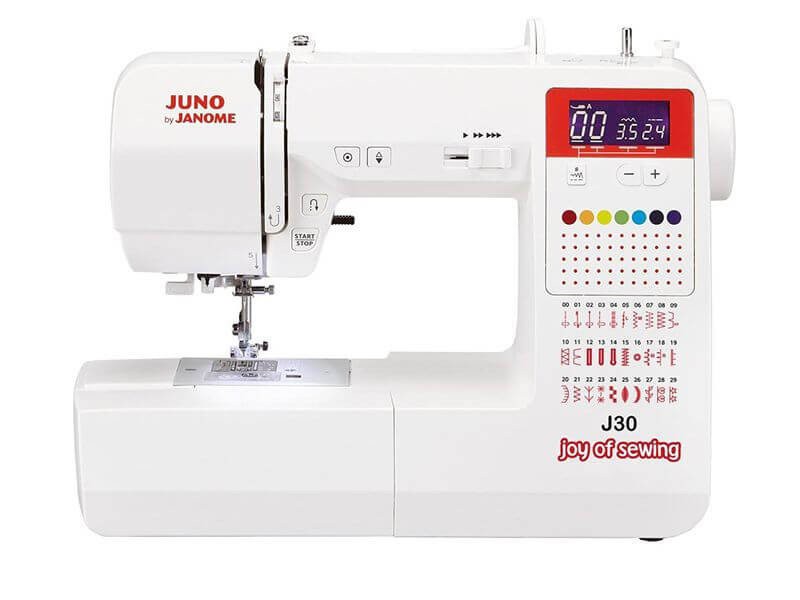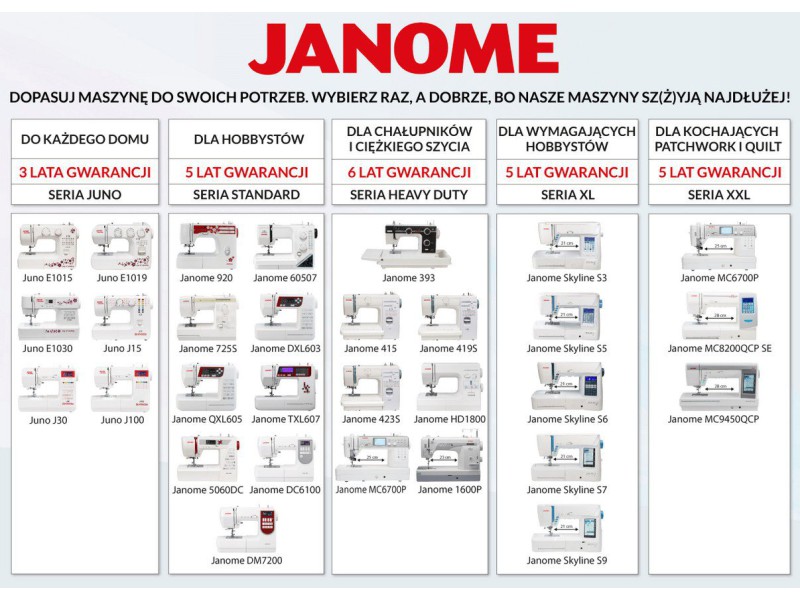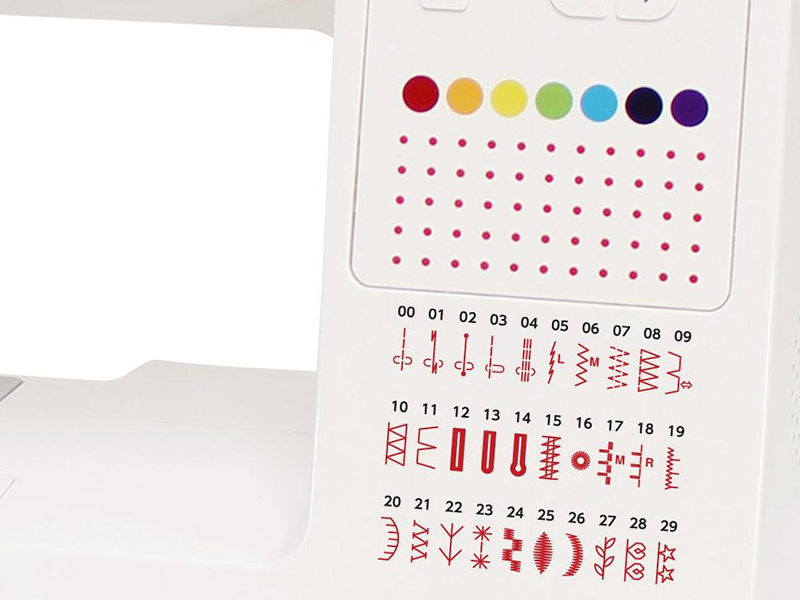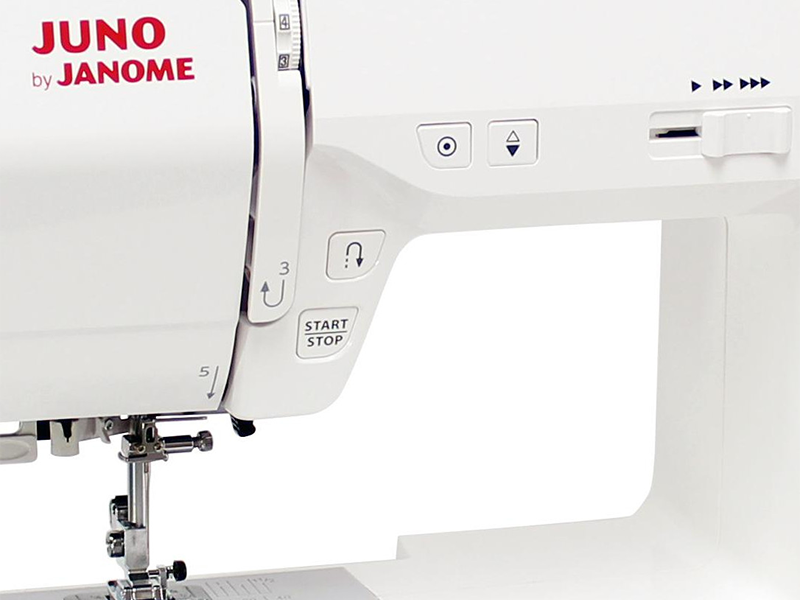 Sewing machine Janome Juno J30
The lowest price of the last 30 days: 1 949,00 zł
The Juno J30 sewing machine is a computer sewing machine with a rotary hook and modern sewing solutions. The J30 is equipped with a large, easy-to-read display that shows the parameters of the selected stitch program and suggests which presser foot to use. 30 stitch programs include straight, zigzag, overlock, elastic, decorative, appliqué and 4 programs for automatic buttonhole sewing.
A large selection of stitches
The machine has 30 stitches, including utility stitches, overlock stitches, elastic stitches, blind stitches, darning stitches, cross stitch stitches and decorative stitches. The selection of a specific stitch is done using a keyboard with buttons.
Automatic buttonholes
The Janome Juno J30 sewing machine has an automatic machine for making 4 different types of buttonholes.
Modern LED lighting
Strong, no shadow effect. Easy on the eyes
Start/stop button
Great feature which allows the machine to operate without the use of a speed controller. Use the START/STOP buttons to start sewing and the limbs.
A clear display shows the number of the selected stitch and its parameters (length, width, presser foot type and active machine functions)
Snap-on footer
Very convenient footer attachment. We can put the footer on and off quickly and easily.
Rotary hook
The machine is equipped with a rotary hook. Thanks to it, the stitches are precise and the machine is quiet.
Fixed backward
The permanent reverse sewing function ensures that the stitch is reinforced and prevents it from unraveling.
FIX function
Auto-lock stitch
Free arm
It makes sewing round pieces much more convenient.
Double needle sewing & gt;/strong & gt;
We can sew a double needle for interesting compositions
Needle threader
Built-in needle threader
Special notch design
7-point transport mechanism ideal for material advance, especially at the beginning of sewing
Switchable transport
Allows for manual fabric feed
Thread knife in the machine housing
Convenient thread cutter
Additional sewing speed adjustment
Additional slider to adjust the sewing speed
Standard equipment according to the instructions.
Description of the above product is protected by copyright. Their use requires the permission of the copyright owner. Downloading the content of the above description without the consent of Wiking Polska Sp. z o.o. based in Krakow constitutes an act of unfair competition in the light of the ACT of April 16, 1993 "on combating unfair competition".
Data sheet
Number of stitches

thirty

Guarantee

3 years

Automatic buttonhole sewing

4 types of buttonholes

Automatic needle threader

Yes

Automatic thread trimmer

NO

Stitch tying function

automatic

Additional sewing speed adjustment

Yes

Extra table

NO

Working space to the right of the needle

170mm

Knee lever

NO

Exclusive Sewing Tutorial

NO

Foot pressure function

NO

Color Touch Screen

NO

Saving stitches to memory

NO

Number of needle positions

smooth regulation

Case

soft

Double needle sewing possible

Yes

Knives in the case

1

Vertical mirror image

NO

Horizontal mirror image

NO

LED lighting

Yes

Accessory container

Yes

Start/stop button sewing without regulator

Yes

Button sewing program

NO

Programmable fonts

NO

Stitch length adjustment

from 1.2 -5.0 mm

Stitch width adjustment

up to 7.0 mm

Hook type

rotary

Multi-directional sewing (left and right)

NO

Quilting stitches

NO

Decorative stitches

7

Blind hemming stitches

Yes

Overlock stitches

Yes

Menu in Polish!

NO

Stitches for stretch fabrics

Yes

Cross stitches

NO

Triple stitches

NO

Free arm

Yes

Cursor showing the current embroidery position

not applicable

Pattern rotation

not applicable

Separate bobbin winding motor

NO

Pattern scaling

not applicable

Sewing without a speed controller

Yes

Sewing with free movement of the material

Yes

Needle retraction function after thread breakage

not applicable

Integrated top material transport

NO

Internet upgrade

NO

sewing speed

800 injections/min

Automatic needle positioning

Yes

Built-in screen stylus

NO

Basting on the hoop

not applicable

Needle stop in Up/Down position

Yes

Bobbin thread sensor

NO

Thread break sensor

NO

Stitch lengthening function

NO

Stitch restart

NO

Number of embroidered fonts

not applicable

Number of embroideries

not applicable

USB ports

NO

Embroidery field

not applicable

Hoops included

not applicable

Smart save function

NO

Adjusting the embroidery on the screen

not applicable

Grouping patterns

not applicable

Undo/redo when creating pattern combinations

not applicable

Embroidery time by color

not applicable

He does embroidery on hats

NO

Performs embroidery on ready-made clothing

NO

Alphabet

NO

Design your own stitches

NO

JOYSTICK multifunction knob

NO

Automatic Adaptive Thread Tension

NO

Programmable jump stitch trimming

not applicable

Invisible Security feature

not applicable

Smart Security feature

not applicable

Pinpoint Placement feature

not applicable

Lower Thread Pull Up Function

not applicable

Thread Pull function

not applicable

BSR-Bernina Stitch Regulator function

NO

Automatic footer height setting

NO

Floating footer function

NO

Starter with the function of raising / lowering the needle

NO
Sewing machine fabric creasing foot - The secret to effective creases revealed!

Introducing the fabric creasing foot for your sewing machine. This small but highly effective accessory will allow you to easily add eye-catching creases to your projects! Our video starts by introducing the creasing foot itself. We will talk about its construction and the special features that make it the ideal tool for creating even and regular creases on different types of materials. We will also look at the process of mounting this foot on the sewing machine. Thanks to the simple attachment, using special snaps, the foot is ready to use in just a few moments. In our video we will give a step-by-step demonstration of how to use the crease foot. We will show you how to adjust the thread tension and stitch length accordingly in order to achieve different creasing effects - from delicate and subtle to expressive and deep creasing. There will also be practical tips on how to hold the fabric while sewing to achieve even and aesthetically pleasing creases. With our tips, you will quickly master the technique and be able to create stunning creases in your sewing projects.
8 other products in the same category:
Product Review
Reviews (0)

All reviews (0)
Excellent (0)
Good (0)
Medium (0)
Poor (0)
Terrible (0)

Latest
Oldest
High rating
Low rating
Helpful