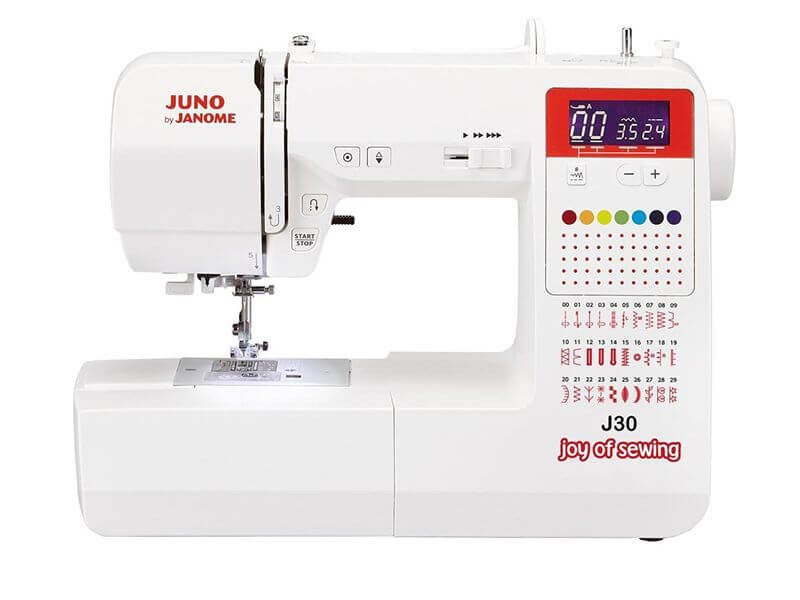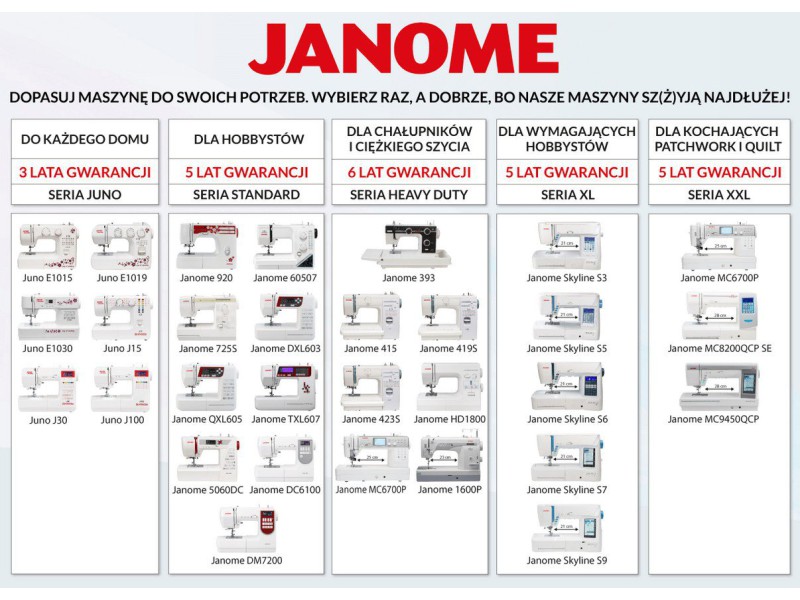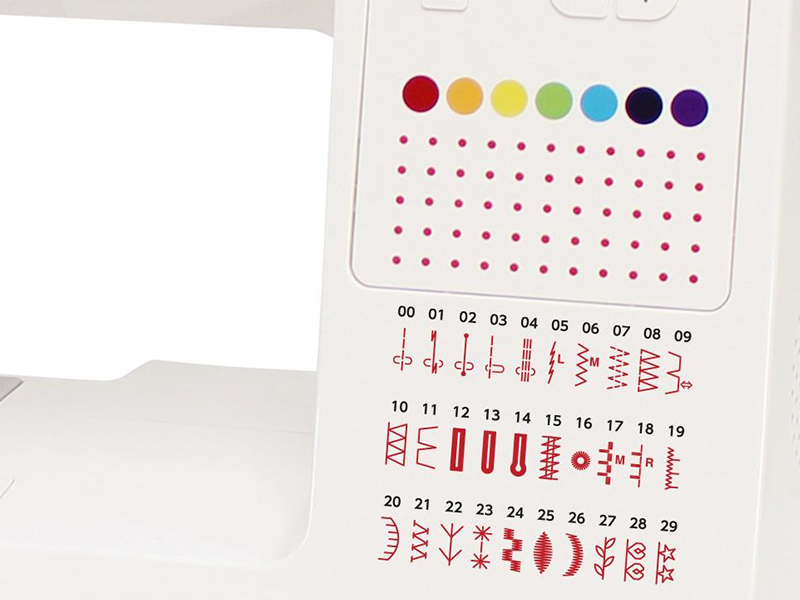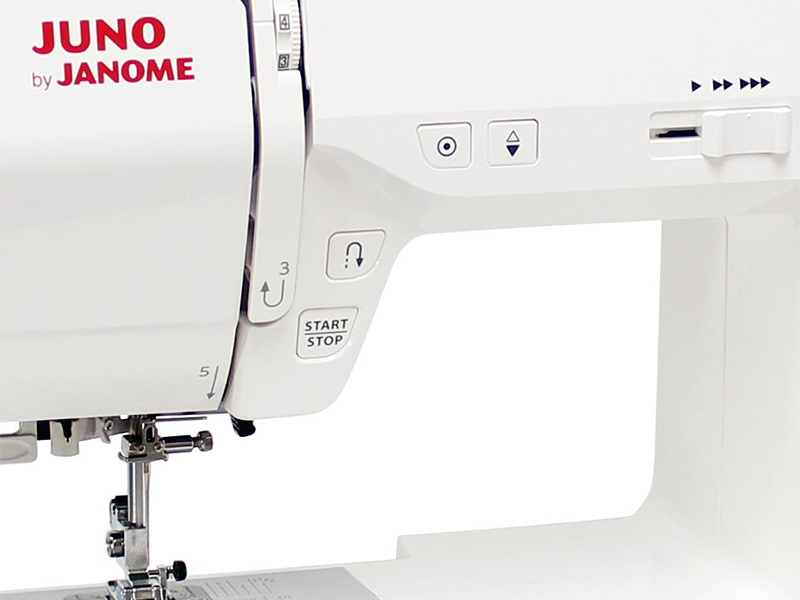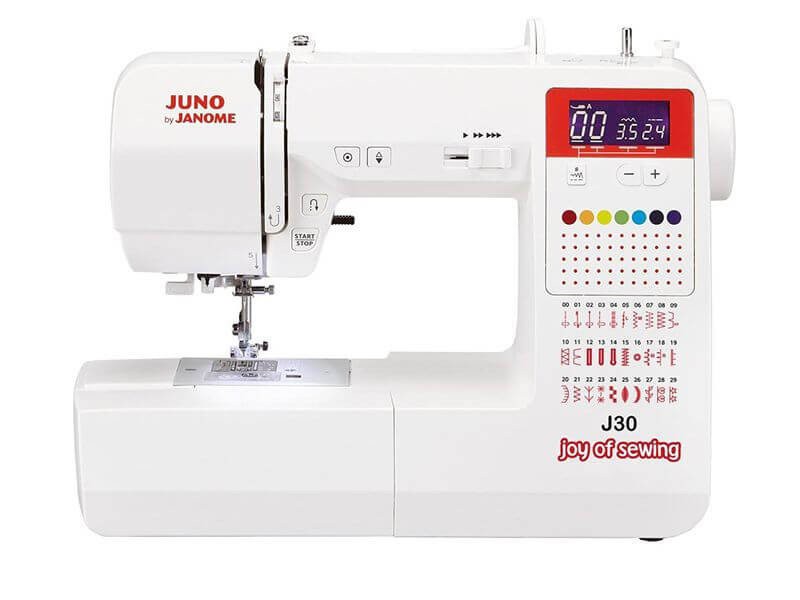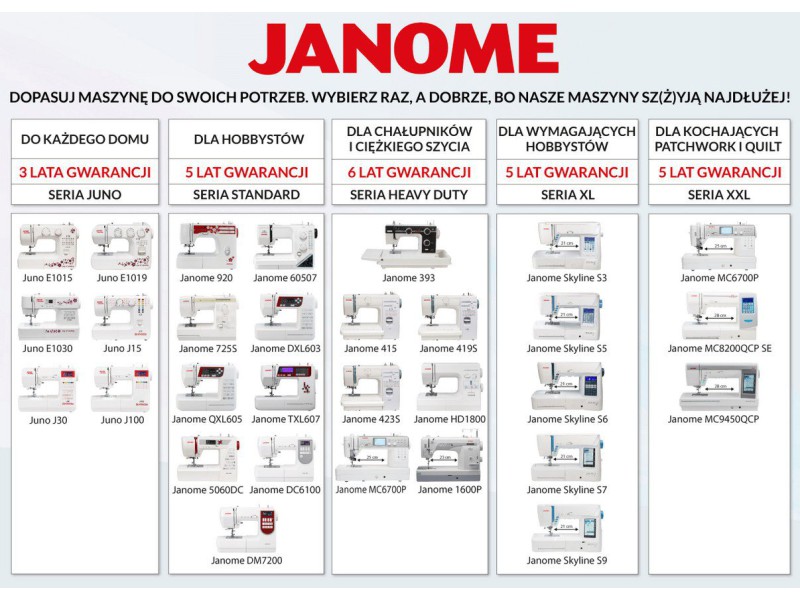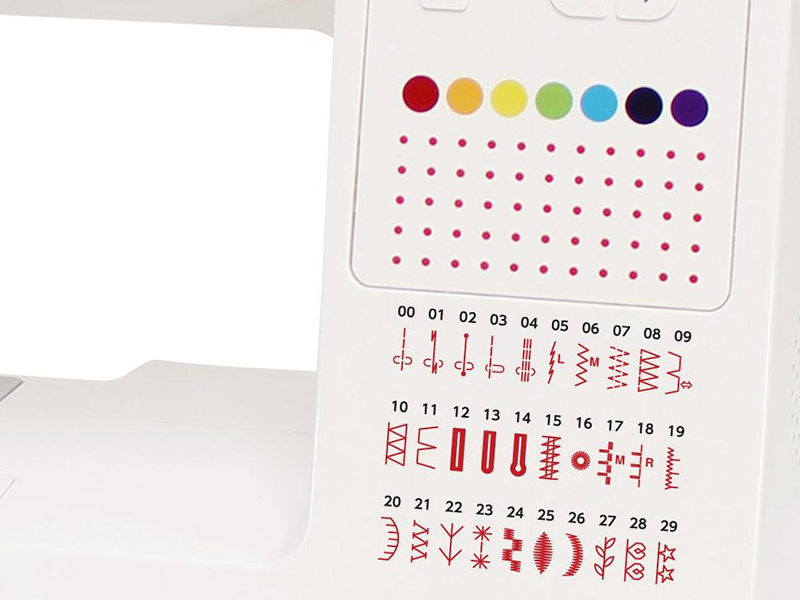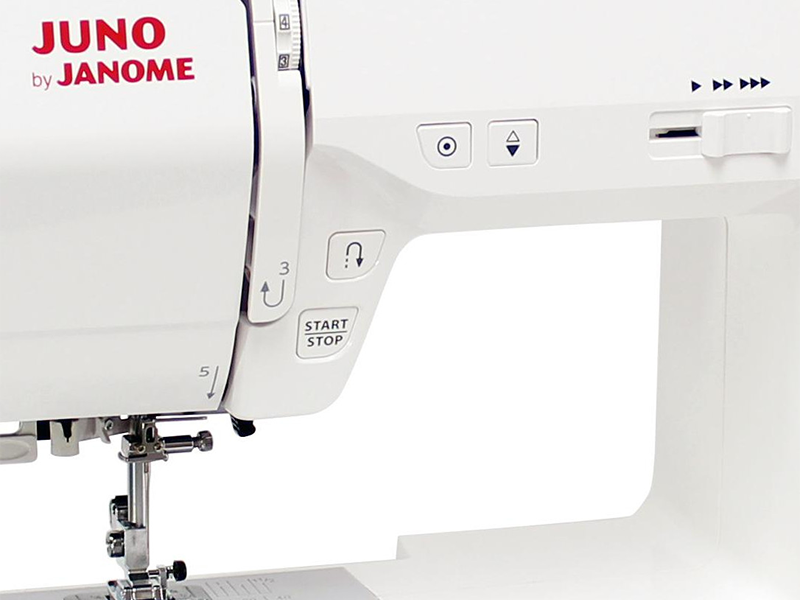 Sewing machine Janome Juno J30
The lowest price of the last 30 days: 1 949,00 zł
The Juno J30 sewing machine is a computer sewing machine with a rotary hook and modern sewing solutions. The J30 is equipped with a large, easy-to-read display that shows the parameters of the selected stitch program and suggests which presser foot to use. 30 stitch programs include straight, zigzag, overlock, elastic, decorative, appliqué and 4 programs for automatic buttonhole sewing.
A large selection of stitches
The machine has 30 stitches, including utility stitches, overlock stitches, elastic stitches, blind stitches, darning stitches, cross stitch stitches and decorative stitches. The selection of a specific stitch is done using a keyboard with buttons.
Automatic buttonholes
The Janome Juno J30 sewing machine has an automatic machine for making 4 different types of buttonholes.
Modern LED lighting
Strong, no shadow effect. Easy on the eyes
Start/stop button
Great feature which allows the machine to operate without the use of a speed controller. Use the START/STOP buttons to start sewing and the limbs.
A clear display shows the number of the selected stitch and its parameters (length, width, presser foot type and active machine functions)
Snap-on footer
Very convenient footer attachment. We can put the footer on and off quickly and easily.
Rotary hook
The machine is equipped with a rotary hook. Thanks to it, the stitches are precise and the machine is quiet.
Fixed backward
The permanent reverse sewing function ensures that the stitch is reinforced and prevents it from unraveling.
FIX function
Auto-lock stitch
Free arm
It makes sewing round pieces much more convenient.
Double needle sewing & gt;/strong & gt;
We can sew a double needle for interesting compositions
Needle threader
Built-in needle threader
Special notch design
7-point transport mechanism ideal for material advance, especially at the beginning of sewing
Switchable transport
Allows for manual fabric feed
Thread knife in the machine housing
Convenient thread cutter
Additional sewing speed adjustment
Additional slider to adjust the sewing speed
Standard equipment according to the instructions.
Description of the above product is protected by copyright. Their use requires the permission of the copyright owner. Downloading the content of the above description without the consent of Wiking Polska Sp. z o.o. based in Krakow constitutes an act of unfair competition in the light of the ACT of April 16, 1993 "on combating unfair competition".
Data sheet
Warranty

5 lat

Automatic needle threader

tak

Automatic thread trimming

Nie

Automatic stitch binding

manualna

Additional table

tak

Knee lever

nie

Foot press function

automatyczny

Number of needle positions

płynna regulacja

Soft cover

Miękki

Possibility of sewing with a double needle

tak

Cased knives

tak

LED lighting

tak

Accessory bin

tak

Button sewing program

tak

Stitch width adjustment

Gripper type

rotacyjny

Decorative stitches

tak

Covered lining stitches

tak

Overlock stitches

tak

Stitches for elastic materials

tak

Free arm

tak

Sewing without speed controller

nie

Top-end material handling

Nie

Sewing speed

860 wkłuć/min

Automatic needle positioning

NIe

Embroidery field

nie dotyczy

Number of stitches

23

Alphabet

Nie

Automatic hole punching

Tak
8 other products in the same category:
Product Review
Reviews (0)

All reviews (0)
Excellent (0)
Good (0)
Medium (0)
Poor (0)
Terrible (0)

Latest
Oldest
High rating
Low rating
Helpful