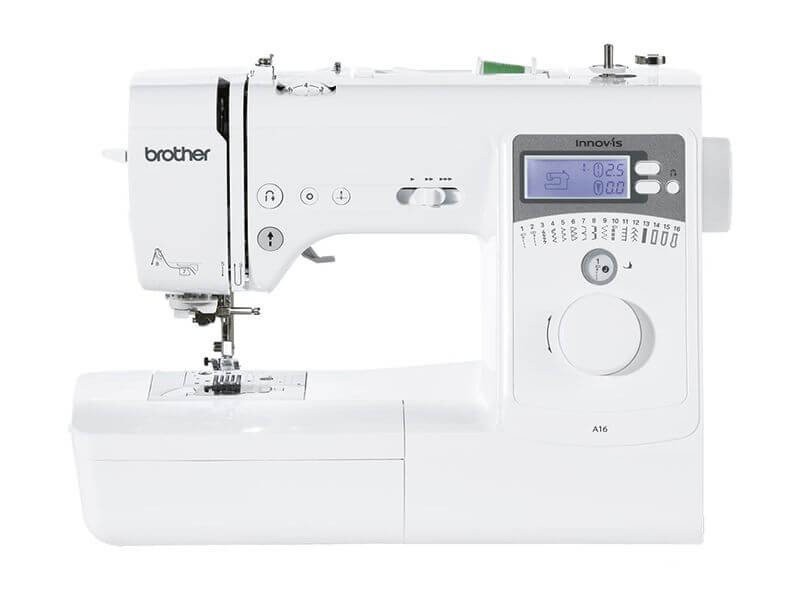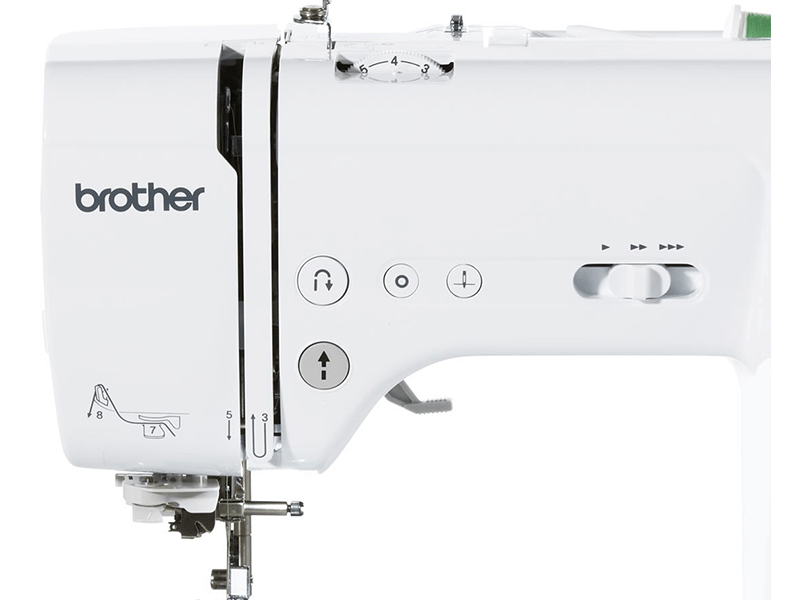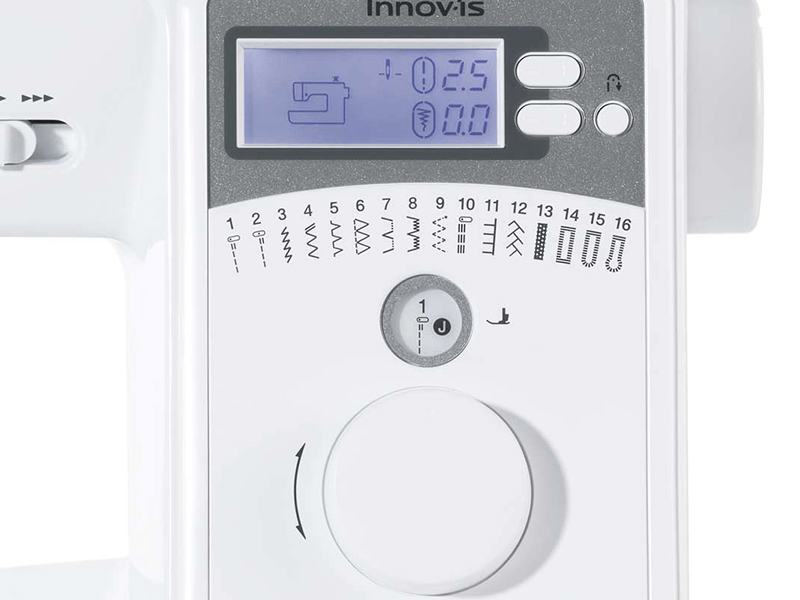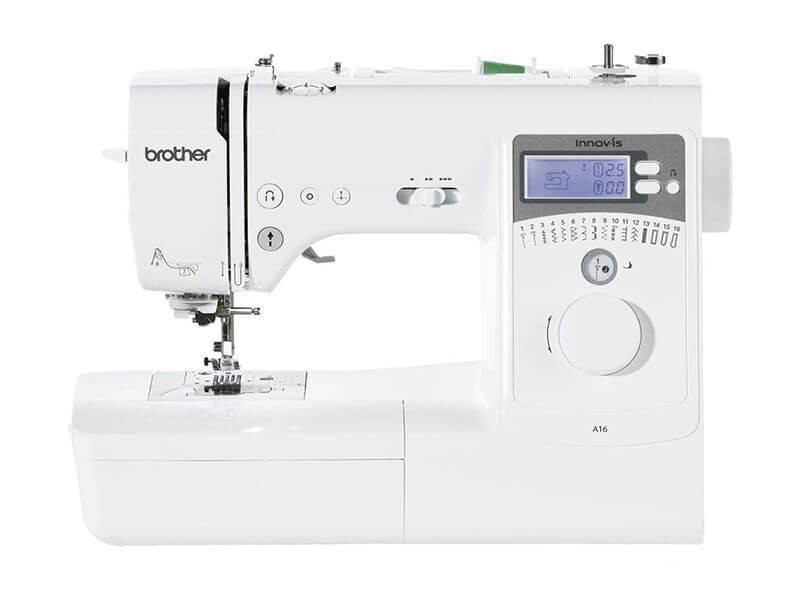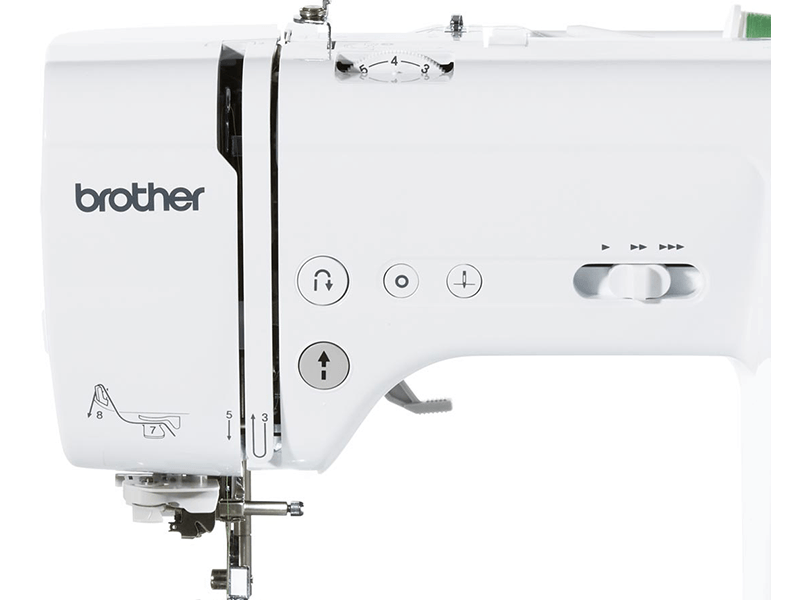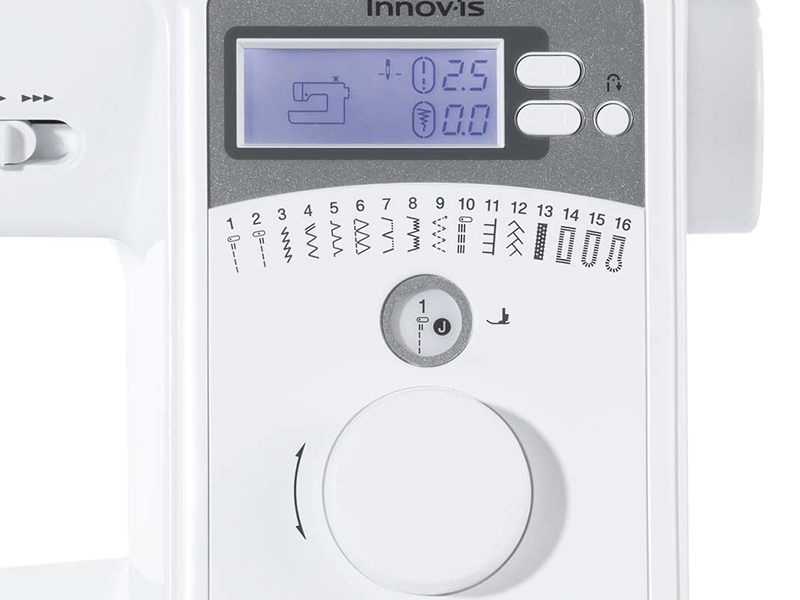 Sewing machine Brother A16
The lowest price of the last 30 days: 1 770,00 zł
Brother A16 Sewing Machine
It is a computer sewing machine with 16 stitch programs. A fantastic offer for people who like working comfort. It has 16 specially selected stitches and many functions of high-end machines. So we have 3 types of automatic buttonholes, overlock and elastic stitches to use. We can work without a speed controller. The machine has an automatic needle threader and an additional smooth adjustment of the working speed. When the "FIX" function is on, the stitch will be tied and secured against unraveling. It also has a needle positioning function. The sewing machine comes with a 3-year warranty!
Selection of the optimally matched stitches
The machine has 16 stitches, among which there are utility, overlock, elastic, covered, darning stitches and decorative stitches. Select a specific stitch with the dial,
Automatic buttonholes
The Brother HF37 sewing machine has an automatic machine for making 3 types of buttonholes. The buttonholes are perfectly sewn, each next one is a perfect repeat of the previous one.
Modern LED lighting
Strong, no shadow effect. It does not strain your eyes. It is soft and smooth.
Smooth stitch width adjustment
Smooth stitch width adjustment - up to 7mm.
Smooth stitch length adjustment
Smooth stitch length adjustment up to 4 mm.
START/STOP button
Can work without speed regulator.
Slow Motion function
Possibility of precise start/stop (holding the button reduces speed to minimum)
Adjusting the sewing speed with the slider
Additional electronic adjustment of the sewing speed with the slider.
Positioning the needle
Automatic needle positioning (up/down)
Cased knives
Manual thread cutter (3 places)
Automatic needle threader
Comfortable, automatic needle threading.
Adjusting the thread tension
Smooth adjustment of thread tension.
Special material conveyor
A special 6 point transport mechanism.
Transport excluded
Possibility to disable transport for sewing, free embroidery.
High sewing speed
Sewing speed approx. 850 stitches per minute.
Snap-on footer
Very convenient mounting feet. We can put the footer on and off quickly and easily.
Rotary hook
The machine is equipped with a rotary hook. Thanks to it, the stitches are precise and the machine is quiet.
Sew backwards
Reverse sewing ensures that the stitch is reinforced and prevents it from unraveling.
Free arm
It makes sewing round pieces much more convenient. Particularly useful when sewing and repairing children's clothing.
3-year warranty!
The machine is covered by a three-year warranty in the door-to-door system (door to door). This means that we pick up and deliver the machine directly to your place of residence free of charge. Warranty conditions here & gt; & gt;
Standard equipment according to the instructions.
We invite you to purchase needles for sewing various fabrics, additional spools and machine feet. You can find everything in the category "Accessories"
Description of the above product is protected by copyright. Their use requires the permission of the copyright owner. Downloading the content of the above description without the consent of Wiking Polska Sp. z o.o. based in Krakow constitutes an act of unfair competition in the light of the ACT of April 16, 1993 "on combating unfair competition".
Data sheet
Automatic stop when the bottom bobbin is full

tak

Additional space under the footer

tak

Additional sewing speed adjustment

Electronic starter

Tak

Number of stitch programs

16

Number of needle positions

15

Metal components

tak

Ability to lower the teeth

tak

Possibility of sewing with a double needle

Cased knives

LED lighting

tak

Start/stop button

Mozliwość pracy bez regulatrora obrotów

Thread tension adjustment

tak

Stitch length adjustment

tak

Stitch width adjustment

Tak

Gripper type

Decorative stitches

tak

Covered lining stitches

tak

Overlock stitches

tak

Stitches for elastic materials

Tak

Free arm

Tak

Convenient snap-on foot attachment

tak

Sewing speed

850 śc/min

Automatic needle positioning

Automatic hole punching

3 dziurki
Specific References
ean13

5907690126070
8 other products in the same category:
Product Review
Reviews (0)

All reviews (0)
Excellent (0)
Good (0)
Medium (0)
Poor (0)
Terrible (0)

Latest
Oldest
High rating
Low rating
Helpful