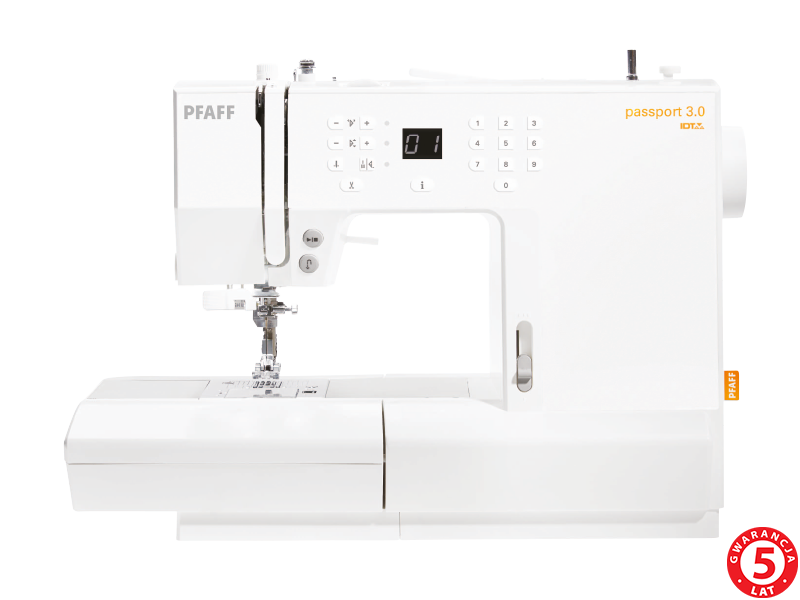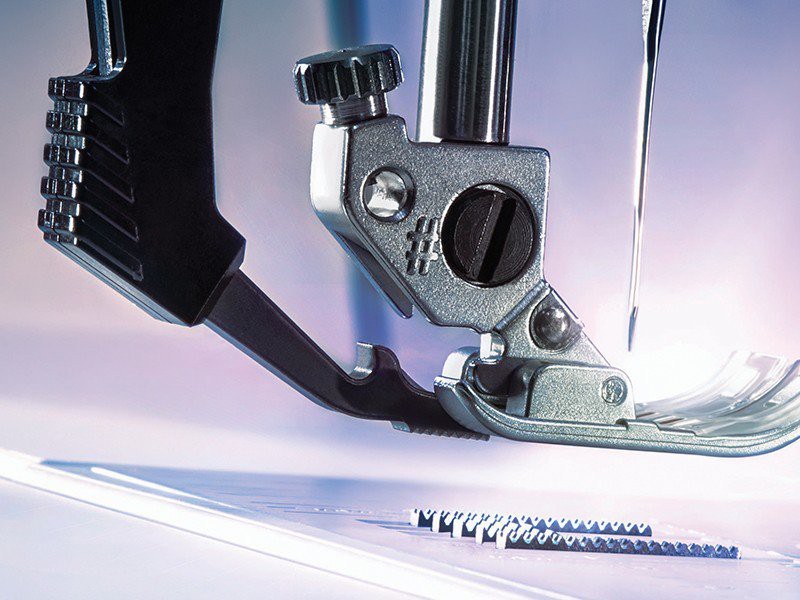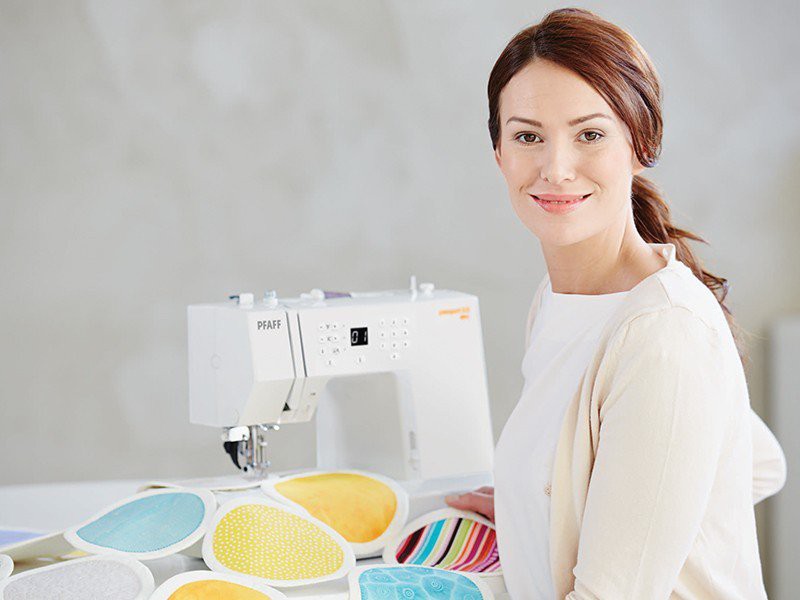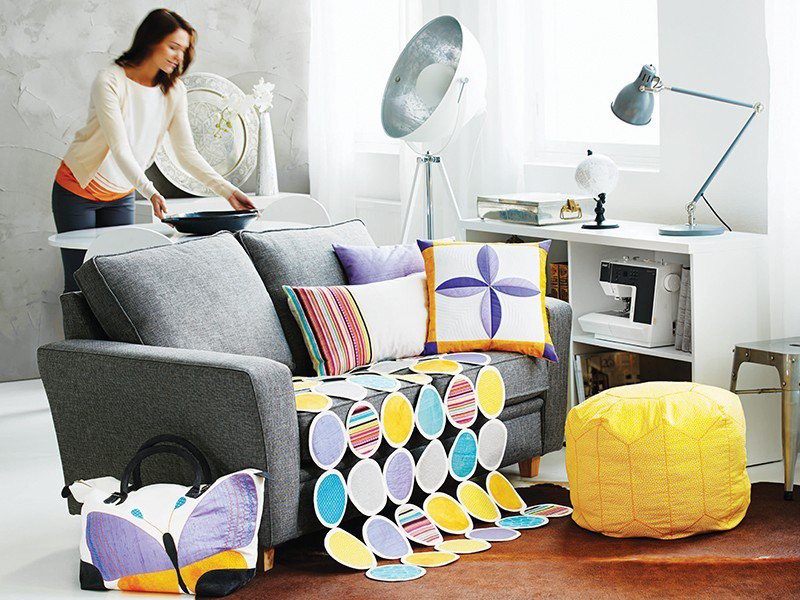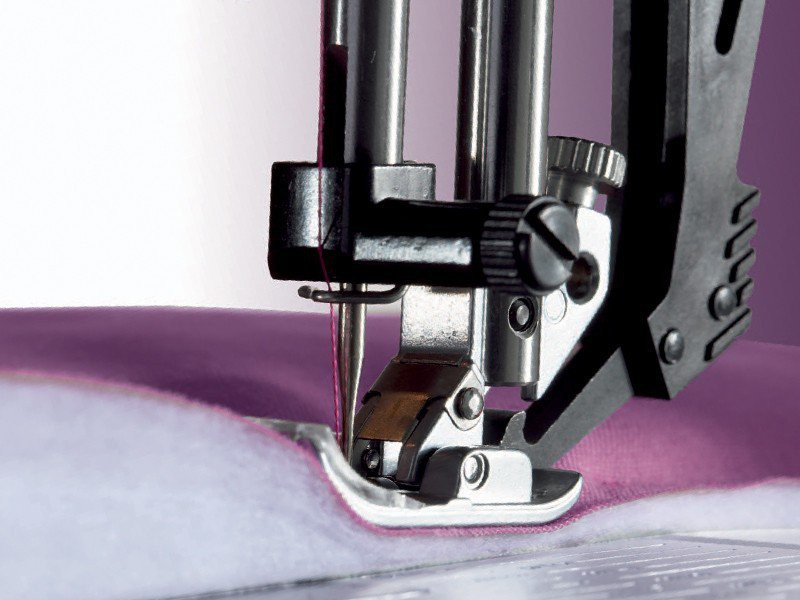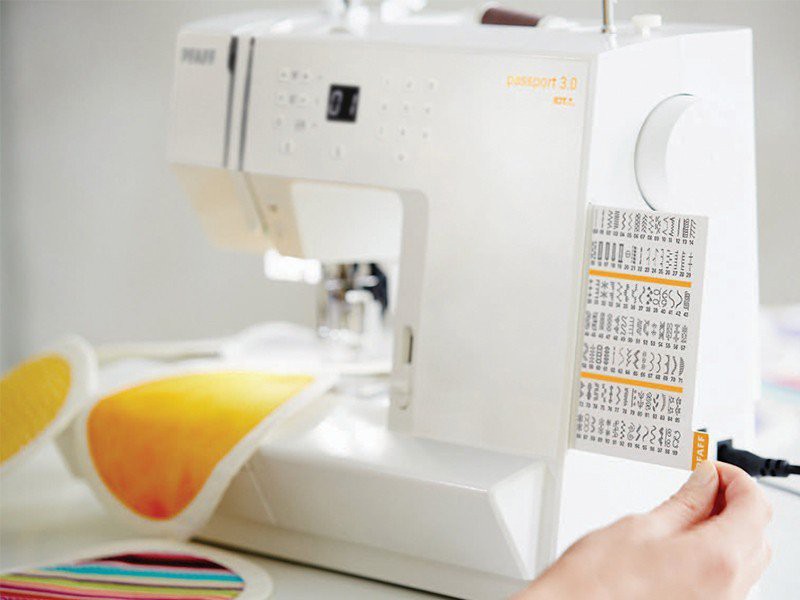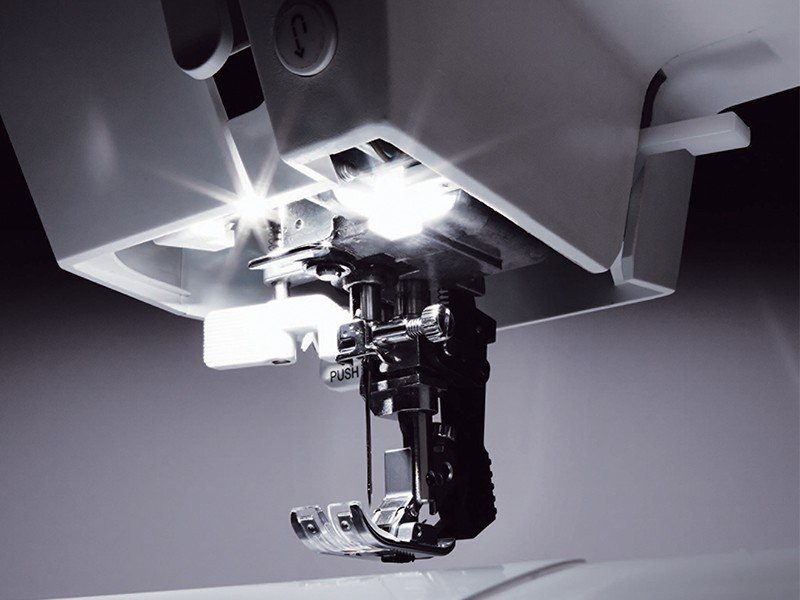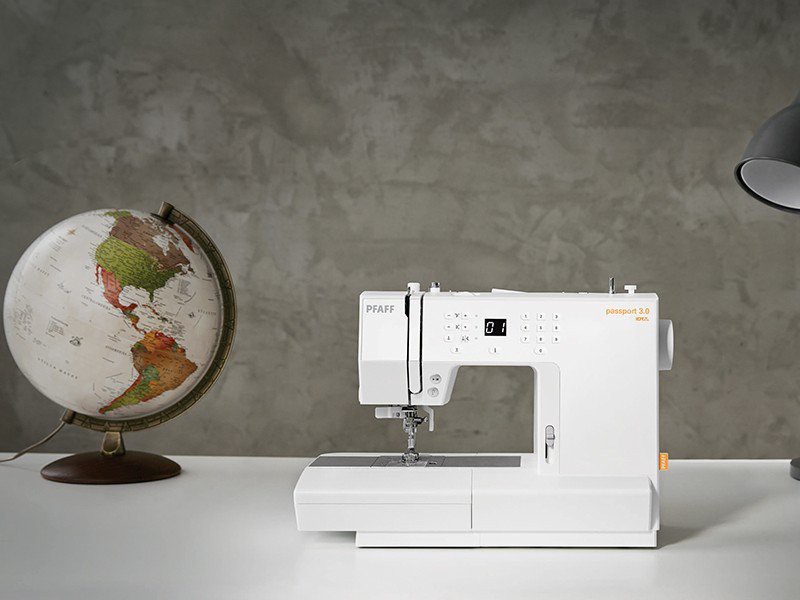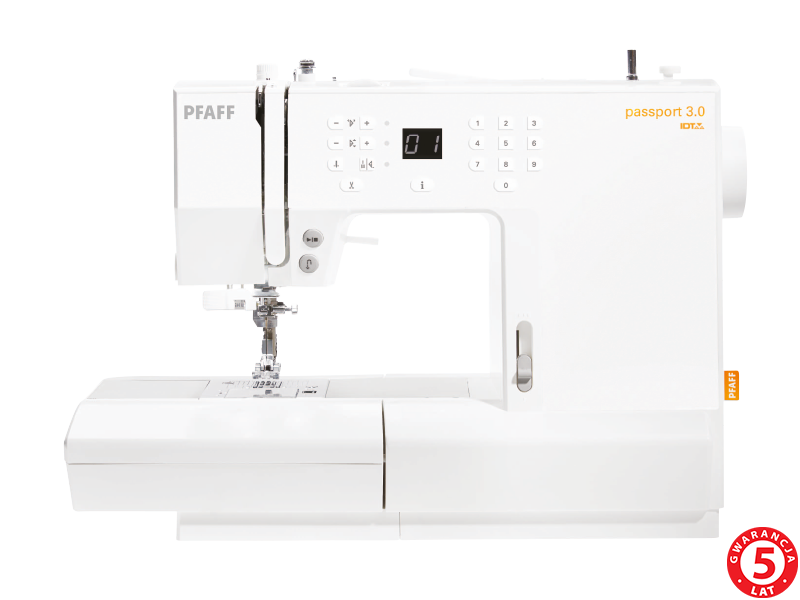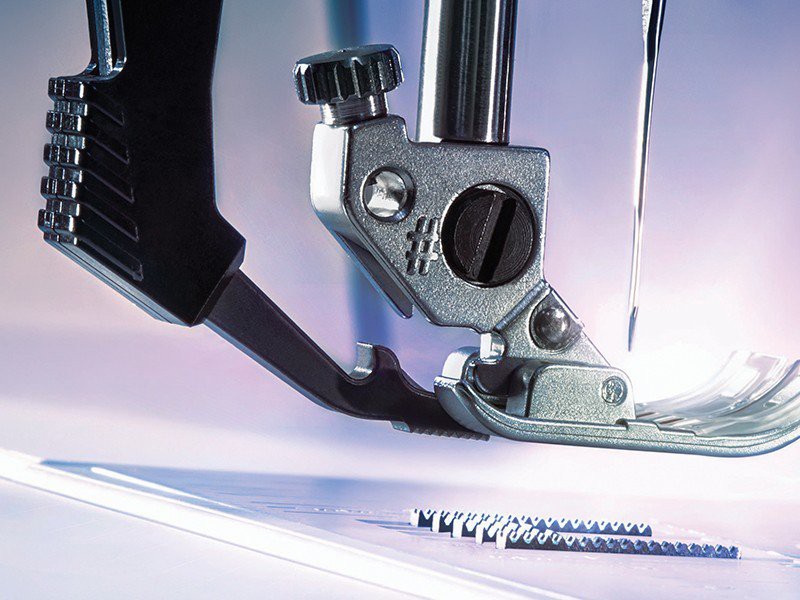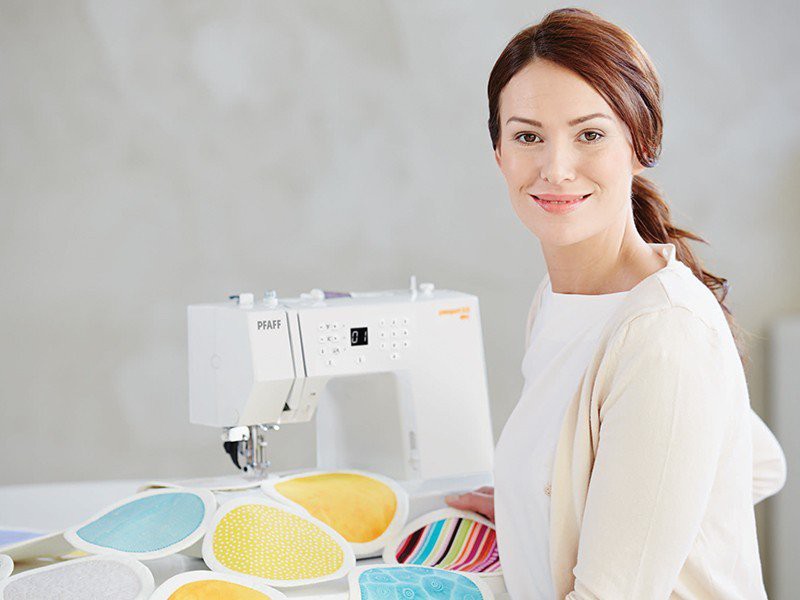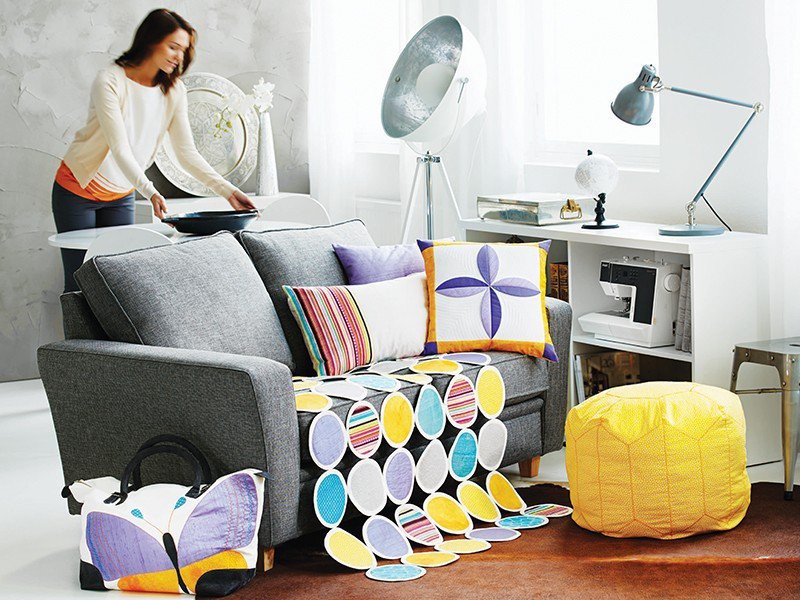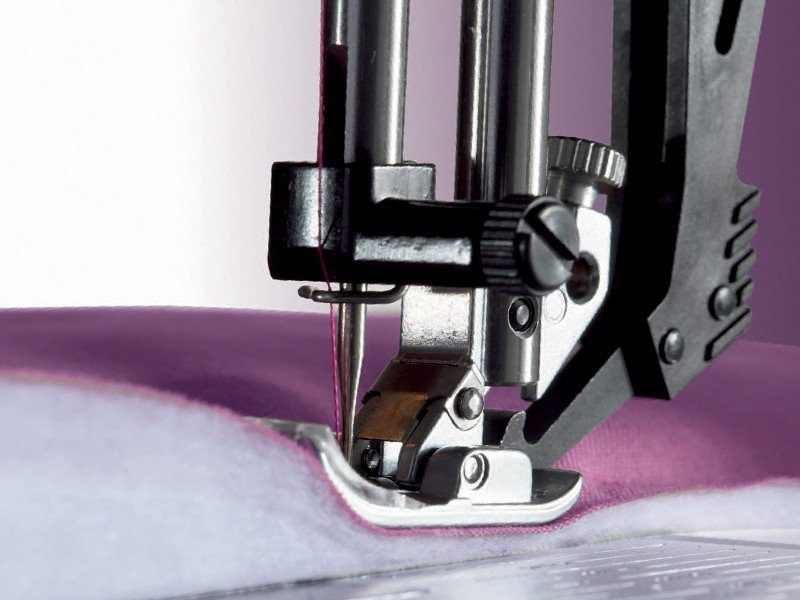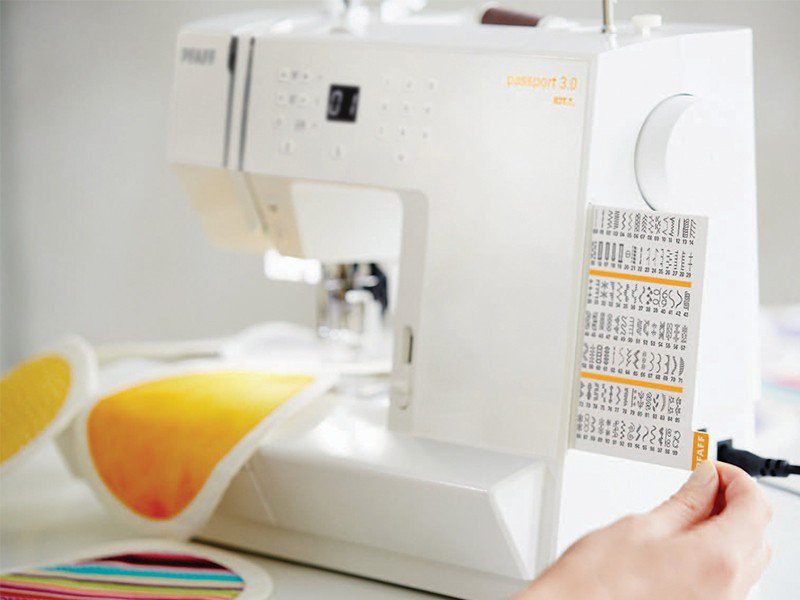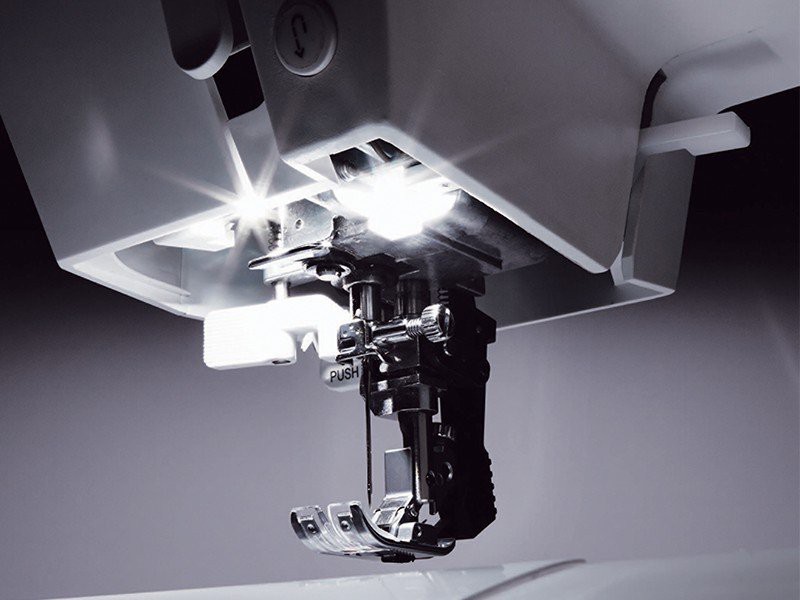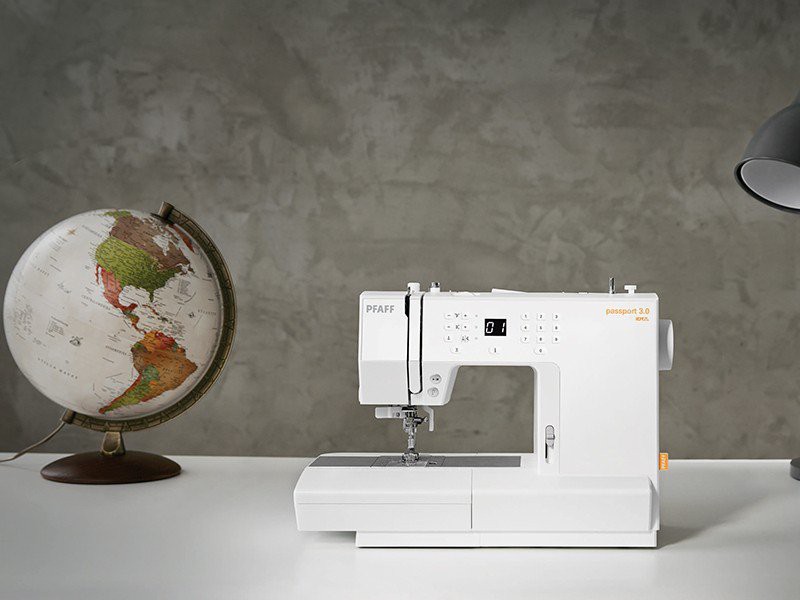 Sewing machine Pfaff Passport 3.0
The lowest price of the last 30 days: 2 970,00 zł
Pfaff Passport 3.0 sewing machine - the latest German technologies for sewing lovers
Pfaff sewing machine Passport 3.0 , like every product of this brand, has an integrated, upper transport of IDT material . Thanks to it, you can sew both thin and thick fabrics without any problems and without wrinkling. The purchase of this device is a solution that not only hobbyists, but also professionals decide on. It offers nearly 100 stitches, so it meets the expectations of users with various needs. The Pfaff Passport 3.0 sewing machine does not require a speed controller. The comfort of use is shaped by, among others, 2 LED lamps, a choice of 29 needle positions and the ability to keep it in the "up or down" position.
Second additional IDT top material conveyor
The IDT double transport system ensures perfect sewing of all types of fabrics from thin and slippery to thick and hard. The additional upper transport is synchronized with the lower transport, so the fabric feeds smoothly. So there is no annoying tightening or puckering when sewing Lycra pants or silk blouses - sewing is a pleasure!
100 programs to choose from stitches
The machine has 100 stitches, including utility stitches: overlock, elastic, covered, darning, quilting. We can also use beautiful satin and embroidery stitches up to 7 mm wide. The selection of a specific stitch is done using a convenient keyboard with buttons.
START/STOP function
Function that allows the machine to run without using the foot controller. Use the Start/Stop buttons to start sewing the limbs.
Automatic thread cutting
The sewing machine has an automatic thread cutting function. Just press a button and the threads will be cut automatically. Great comfort of work!
LCD display
The machine has a transparent LCD display.
LED lighting
The machine is equipped with with LED lighting at two points. One-color light similar to natural. It does not cast a shadow and does not tire your eyes!
Needle positioning
The needle positioning is a handy function that allows you to sew accurately in difficult places. Especially useful when sewing in zippers or binding with tape. We have 29 needle positions.
Automatic buttonholes
The Pfaff Passport 30 sewing machine has an automatic machine for making 4 variants of buttonholes. Place the button in the foot and the machine will sew the buttonhole without turning the fabric. The effect is perfect and each subsequent buttonhole is perfectly repeatable.
FIX function
The FIX function automatically ties the threads at the end of the stitch and prevents unraveling. You only need to turn it on with the button. The activated function remembers to tie the threads.
Sew backwards
The machine has a continuous reverse sewing function.
STOP function
We can stop the machine at any time.
Positioning the needle UP/DOWN
Button for selecting the needle stop position up/down. A very convenient function that allows you to continue sewing after reaching a corner, for example. We stop the needle inserted into the fabric. We turn the fabric and continue sewing in the other direction.
Stitch length and width adjustment
Smooth adjustment of stitch length and width. The maximum stitch width is 7mm.
Full needle stick force
The electronically controlled speed controller guarantees a constant and full force of inserting the needle regardless of the speed at which we sew.
Additional adjustment of the sewing speed
Extra adjustment of zipper sewing speed on the front cover. Accurate control of the sewing speed of the machine.
Modern rotary looper - accuracy and comfort
Thanks to the use of a very modern rotary looper, the accuracy and precision of stitches is exceptional. The machine works quietly and softly. Incredibly high work culture!
Solid, durable design
The components and the frame of the machine are made of steel. High quality!
Automatic needle threader
Sewing machine has an automatic needle threader that is easy to use and soft and comfortable. Much needed, after all, you don't have to reach for your glasses!
Automatic STOP when the bobbin is full
The machine stops automatically when the bobbin is full.
Hard case included in basic equipment
The basic equipment includes a hard suitcase that perfectly protects the machine against dust or during transport.
Adjustable pressure feet
Thanks to the smooth adjustment of the presser foot pressure, it is easy to sew thin and thick fabrics.
Double needle sewing
We can use a twin needle with different spacing of 2.5 - 6.0 mm for sewing. This way we will obtain a straight two needle stitch. The machine also has a protection against inserting a wrong twin needle.
Free arm
Thanks to the narrow (free) arm, we can easily repair narrow elements of clothing: a sleeve, trouser leg or elements of children's clothing.
Large space under the foot
The large space under the presser foot allows you to sew thicker fabrics. We have no problem with sewing multiple layers. It is very convenient. It's also easier to sew leather or denim.
Snap-on feet
Allows easy replacement of feet. Press the button, the foot falls onto the fabric. Then place a new one and lower the presser foot lever. The presser foot is automatically "clicked" and ready to use.
Convenient thread cutter
There is a thread cutter in the housing. We don't need to use scissors.
Can disable cloves
You can turn off (lower) the cloves to sew with other techniques. Particularly useful for hand-guided embroidery or quilting.
Simple stitch selection
Quick and easy selection of 100 stitches with buttons. We offer utility stitches and beautiful decorative stitches.
Pull-out stitch list
Convenient pull-out list of stitch functions.
Five-year warranty
All components and parts in the machine are covered by a 5-year warranty. We provide a door-to-door service (from door to door).

Standard equipment of the machine:
- standard IDT foot
- foot for decorative stitches 1A IDT
- foot for decorative stitching 2A IDT
- foot for blind stitch IDT
- foot for sewing in IDT zippers
- foot for automatic buttonhole sewing
- spools x 5 pcs.
- felt pad
- needle plate screwdriver
- multifunctional tool
- spool puck, large x 2 pcs
- small spool ring
- stitch cutter and brush
- edge guide
- additional spool pin
-kickstarter
-set of needles x 1 set
-hard suitcase
-manual PL
We invite you to purchase needles for sewing various materials, additional spools and machine feet. You can find everything in the category "Accessories"
Description of the above product is protected by copyright. Their use requires the permission of the copyright owner. Downloading the content of the above description without the consent of Wiking Polska Sp. z o.o. based in Krakow constitutes an act of unfair competition in the light of the ACT of April 16, 1993 "on combating unfair competition".
Data sheet
Number of stitches

100

Guarantee

5 lat

Automatic buttonhole sewing

4 rodzaje dziurek

Automatic needle threader

tak

Automatic thread trimmer

tak

Stitch tying function

automatyczna

Additional sewing speed adjustment

tak

Extra table

opcja

Working space to the right of the needle

160 mm

Knee lever

nie

Exclusive Sewing Tutorial

nie

Foot pressure function

manualna

Color Touch Screen

nie

Saving stitches to memory

nie

Number of needle positions

płynna regulacja

Case

Twarda walizka

Double needle sewing possible

tak

Knives in the case

1

Vertical mirror image

nie

Horizontal mirror image

nie

LED lighting

tak

Accessory container

tak

Start/stop button sewing without regulator

tak

Button sewing program

tak

Programmable fonts

nie

Stitch length adjustment

od 1,2 -5,0 mm

Stitch width adjustment

do 7,0 mm

Hook type

Rotacyjny

Multi-directional sewing (left and right)

nie

Quilting stitches

17

Decorative stitches

23

Blind hemming stitches

tak

Overlock stitches

tak

Menu in Polish!

nie

Stitches for stretch fabrics

tak

Cross stitches

3

Triple stitches

nie

Free arm

tak

Cursor showing the current embroidery position

nie dotyczy

Pattern rotation

nie dotyczy

Separate bobbin winding motor

nie

Pattern scaling

nie dotyczy

Sewing without a speed controller

tak

Sewing with free movement of the material

tak

Needle retraction function after thread breakage

nie dotyczy

Integrated top material transport

tak

Internet upgrade

nie

sewing speed

700 wkłuć/min

Automatic needle positioning

tak

Built-in screen stylus

nie

Basting on the hoop

nie dotyczy

Needle stop in Up/Down position

tak

Bobbin thread sensor

nie

Thread break sensor

nie

Stitch lengthening function

nie

Stitch restart

nie

Number of embroidered fonts

nie dotyczy

Number of embroideries

nie dotyczy

USB ports

nie

Embroidery field

nie dotyczy

Hoops included

nie dotyczy

Smart save function

nie

Adjusting the embroidery on the screen

nie dotyczy

Grouping patterns

nie dotyczy

Undo/redo when creating pattern combinations

nie dotyczy

Embroidery time by color

nie dotyczy

He does embroidery on hats

nie

Performs embroidery on ready-made clothing

nie

Alphabet

Nie

Design your own stitches

nie

JOYSTICK multifunction knob

nie

Automatic Adaptive Thread Tension

nie

Programmable jump stitch trimming

nie

Invisible Security feature

nie

Smart Security feature

nie

Pinpoint Placement feature

nie

Lower Thread Pull Up Function

nie

Thread Pull function

nie

BSR-Bernina Stitch Regulator function

nie

Automatic footer height setting

nie

Floating footer function

nie

Starter with the function of raising / lowering the needle

nie
Specific References
ean13

7393033093907
IDT System for sewing machines - Revolutionary Technology for Perfect Results!

An extraordinary technology that will change your approach to sewing - the IDT System for sewing machines! This revolutionary function will allow you to achieve perfect sewing results and make sewing a pure pleasure! In our video, we explain in detail what the IDT System is and how it works. The technology itself is a unique solution developed by one of the market leaders in sewing machines. In the course of the video, we will show how IDT influences the even guidance of the fabric during sewing. This ensures that the machine uniformly transports the fabric from above and below, which eliminates the effect of the fabric layers sliding together during sewing and makes the seams perfectly even. We will also tell you how the IDT System improves control when sewing difficult and flexible materials such as silk, knitwear and leather. Its amazing how IDT makes sewing these types of materials easier and more precise. There will also be practical advice on how to use the IDT System for a variety of sewing projects. From simple dresses and blouses to more advanced projects, IDT will allow you to get great results at every stage of sewing. We also show you how easy it is to switch the IDT System on and off on your machine, allowing you the freedom to adapt your machine to different sewing techniques.
8 other products in the same category:
Product Review
Reviews (0)

All reviews (0)
Excellent (0)
Good (0)
Medium (0)
Poor (0)
Terrible (0)

Latest
Oldest
High rating
Low rating
Helpful